Scots academics help Colombian amputees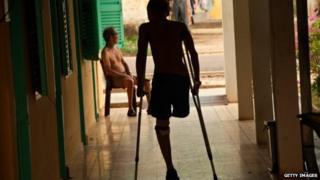 A team of scientists at Strathclyde University has developed a service offering high quality artificial limbs to people on low incomes in Colombia.
The so-called "Leg Bank" will help people in the South American country who have been injured by landmines.
The team has developed sockets, known as Majicast, which fit prostheses securely to patients' residual limbs.
More than 10,000 people in Colombia have been killed or injured by the devices in the past 25 years.
High demand
Dr Arjan Buis, from Strathclyde's Department of Biomedical Engineering, said: "Colombia has a high incidence rate for amputations, not only owing to landmines but also to other causes such as diabetes and traffic accidents.
"Many people there are unable to get access to prostheses and Majicast's relative ease of use is particularly important in low-income countries, where human resources are often scarce and the demand is high."
The device has been scientifically tested and clinically validated and is currently being developed into a market-ready product.
The venture will be piloted in Colombia and, if successful, it will then be developed for other parts of the world.
Child soldiers
The academics from Strathclyde have teamed up with members of Dutch-based social enterprise organisation ProPortion to develop the service.
Merel Rumping, from the company, said: "ProPortion developed the idea for the leg bank after hearing of a surgeon in Thailand who, frustrated by a lack of access to quality prostheses, created his own from plastic bottle caps.
"She was also inspired by the many amputees without prostheses she saw during her time working with street children and former child soldiers in Colombia."
Ms Rumping added: "We did research and found out Colombia has the highest landmine victim rate in the world. We also learned that many of them do not have access to high quality and affordable prostheses."
The partners in the leg bank project intend to begin a crowdfunding campaign to assist with financing the venture.