Scottish government unveils latest A&E action plan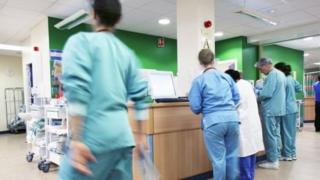 The Scottish government has revealed another action plan to tackle long waits in Accident and Emergency departments.
It follows a difficult winter when thousands of people waited over eight hours to be treated and discharged.
The Holyrood government has struggled to meet A&E waiting time targets in recent years.
An earlier target to treat 98% of people within four hours was reduced to 95% in April 2013.
The 95% target is in line with that for the other UK nations.
The new action plan, which will see Scottish hospitals receive an additional £9m to improve hospital care, features six essential actions:
Clinically focussed and empowered hospital management
Realignment of hospital capacity and patient flow
Operational performance management of patients presenting at A&E and progressing through the acute system
Medical and surgical processes arranged to take patients from A&E through the acute system
Seven Day Services targeted to increase weekend and earlier in the day discharges
Ensuring patients are cared for in their own homes or homely setting
Waiting times lengthen during the winter but are shorter in summer, meaning the NHS generally met waiting time targets in the summer.
However, the last time NHS Scotland achieved the lower target was in August 2013. Meanwhile, the number of people waiting for very long periods rose dramatically last winter.
Between December and March, 8,744 people who went to Accident and Emergency departments waited for more than eight hours to be treated and either discharged or admitted.
Health Secretary Shona Robison acknowledged that last winter had been "challenging" for Scotland's health boards.
She added: "That is why all boards will be reviewing and refreshing their plans ahead of next winter and to ensure A&E performance improves across all 12 months of the year.
"Today I am meeting with key experts to share learning and make sure we are driving forward that performance and ensure that patients get quick, high quality treatment, not just in all our emergency departments but across the whole system.
Performance improving
"Addressing A&E performance cannot be seen in isolation, which is why we must look at the whole system, and these actions depend on a number of partners across the health and social care system working together."
Ms Robison added that £9m was being allocated from the Unscheduled Care Fund to assist health boards, with national improvement officers also being appointed to liaise directly with local teams.
This week's A&E performance figures showed that with 93.5% of people had been seen and treated within four hours at core A&E sites, which Ms Robison said was the best performance since weekly reporting began in February.
"However, there is no doubt that more needs to be done to further reduce waiting times, improve patient flow and meet our world leading targets, and these essential actions will help health boards focus on achieving this," she added.
Action 'beyond A&E'
Dr Nikki Thompson of the British Medical Association said the organisation was looking forward to hearing further detail of the action plan and how it would be supported.
She said: "For individual patients and their families, delays to urgent treatment at any stage are difficult and stressful. The pressures faced by A&E departments are a symptom of wider problems in the NHS and the Scottish Government's recognition that action must extend beyond A&E departments is welcome.
"It is vital that we are able to look after all our patients safely and within a sensible timescale, and that we can prioritise those most urgently in need of care. However, problems such as the high number of consultant vacancies, and other major challenges, make this increasingly difficult.
"These issues need to be addressed to allow us to provide the standards of care we want for our patients, in A&E and throughout the service."
Challenges faced
This is the second A&E action plan in recent years. A previous £50m action plan was introduced in February 2013 following similar long waits over the winter of 2012/13.
Scottish Conservative health spokesman Jackson Carlaw said: "The last SNP action plan seemed only to make things worse, and patients and staff will need some persuading that won't be the case this time around.
"We've had announcements, strategies, major cash injections, and still the statistics only get worse."
Long waits in emergency departments are often a sign of pressure across the whole system.
In January the Scottish government announced £100m to help health boards and local authorities tackle bed blocking, which it was hoped would help people move out of A&E and through the system.
Beds become blocked when a patient is ready to be discharged but can't leave hospital because they are waiting for a care home place or other arrangements.
A report by Audit Scotland into the problems in A&Es during the winter of 2012/13 found that there had been an increase in admissions of the elderly, a shortage of specialists, a lack of available beds, combined with a norovirus outbreak.
However, it also pointed out that health boards faced a challenging time with limited funding increases and difficult savings targets, combined with the pressure of an ageing population and more people with long term conditions.