Deprivation and mental health link 'strong and consistent'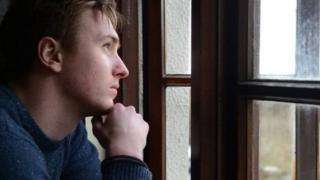 People from Scotland's most deprived areas are more than three times as likely to be treated for mental illness than those in more affluent communities, according to a report.
The study looked at the numbers of people treated for mental health problems during 2013 and 2014.
Official figures stated a discharge figure of 649 in 100,000 people in the most deprived areas.
This compared to a figure of 197 per 100,000 people in affluent communities.
The report stated there was "a strong and consistent relationship with deprivation", adding: "The more deprived an area, the higher its rate of psychiatric inpatient discharges".
The figures for Mental Health Inpatient Care, published by ISD Scotland, also revealed that almost 3,500 patients were resident in a psychiatric hospital last year.
While about one in 370 people were discharged from one of Scotland's psychiatric hospitals at least once during 2013/14.
Between 1997/98 and 2013/14 the annual numbers of admissions, discharges, stays and patients all fell by about a third, with the number of hospital residents falling by more than 50% over the period.
The report stated: "These patterns reflect the shift in recent years in the care of people with mental health problems, away from inpatient treatment towards various forms of care in the community."
Increased funding
The minster in charge of mental health, Jamie Hepburn, welcomed the continuing decline in the number of hospitalisations related to mental illness.
He added: "Expenditure on mental health services is around £900m in Scotland. We have increased access to psychological therapies, allowing more people to stay out of hospital.
"We have worked with NHS boards to improve the prescribing of anti-depressants and other medications, meaning that people are given appropriate treatment when they need it.
"On child and adolescent mental health services, we were the first country in the UK to introduce waiting times for treatments.
"The workforce has been increased by 45% since 2008 and we have recently announced a £15m mental health innovation fund, which will be partly used to improve access to services for children and young people."
Liberal Democrat health spokesman Jim Hume called for "an honest debate" about the provision of mental health services in Scotland, saying that it must be "a central part of the SNP's mental health strategy".
'Shameful'
He said: "It's hard to take heart from the fall in admissions to mental health hospitals when we know more people are waiting longer for access to psychological therapies.
"This is only part of the problem caused by the reduction in psychiatric beds by a third since 2005.
"It's shameful for the Scottish government to claim progress on an issue that deals with people's mental wellbeing which has not been resolved but just displaced."
Scottish Conservative health spokesman Jackson Carlaw said: "We know that many avoidable conditions such as alcoholism and obesity are a result of poor mental health.
"Such conditions are more prevalent in areas of higher mental health inequality, so it would seem to be a priority to ensure that appropriate mental health support services are available where they are most needed."