Facing the Dugdale Dilemma at FMQs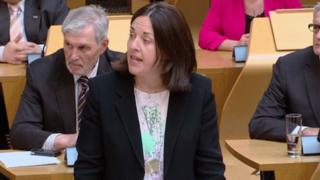 Today's plaudits for perseverance go to Kezia Dugdale. Her Scottish Labour Party neared annihilation at the UK election just a week ago. All around her a clamour of party voices - some angry, some conciliatory, all anxious.
But still there is the day job. Questioning Nicola Sturgeon upon her record in office. Ms Dugdale contrived to do so without mentioning that election result. Plainly sensing an oversight, Ms Sturgeon mentioned it for her.
Appreciate the Dugdale Dilemma. Do you simply carry on regardless (was that a film?), or do you perhaps say: "Ok, we took a drubbing but we have a task to fulfil here at Holyrood and we intend to pursue that task in the interests of the Scottish people."
Personally, I can see the merits of the latter, the value of acknowledging the presence in the chamber of a sizeable, trunked pachyderm. But I can also understand the appeal of the former. Onwards and, she hopes, upwards.
Perhaps in search of familiar, pre-election territory, her topic was one Labour has pursued repeatedly in the past. None the worse for that.
Ms Dugdale suggested that Scotland's colleges had been under-funded with a consequent drop in student numbers. Ms Sturgeon replied that she had promised to maintain Full Time Equivalent (FTE) numbers at a given point and had exceeded that precise target.
Little below par
The Labour deputy leader then switched tack, while still pursuing the broad topic of education. She cited academic research which suggested declining pass rates at SCQF in Scotland (you probably still call them Standard Grades or even O Grades; I know I do.)
Ms Sturgeon said she would look at said research but noted, in contradiction, that there was evidence of improved performance in Scottish exams. A credit, she said, to Scotland's pupils and their teachers.
Finally, Ms Dugdale pursued the topic of numeracy. How could it be fair, she said, that pupils from the most deprived backgrounds had roughly half the level of attainment in S2 of their peers from more affluent areas?
Ms Sturgeon readily conceded that the stats on numeracy would benefit from amelioration - but she said there was also evidence that more and more kids were going from school to what she called "positive destinations". Presumably further or higher education, apprenticeship, job.
And that, from Ms Dugdale, was that? Had she survived? Had she surmounted the Dugdale Dilemma? Well, it was a feisty performance but Ms Sturgeon had the last word. She chose to make that word "election."
Firstly, she reminded Ms Dugdale - in case it had slipped her mind - that Labour had performed a little below par last Thursday. It was, said the FM for emphasis, the party's poorest performance in living memory.
Then the sting. Nicola Sturgeon said she had heard tell of a letter circulating, inviting folk to endorse Jim Murphy as the Scottish Labour leader. Where, she inquired mischievously, could she sign? Ms Dugdale looked only slightly pained.
A novel joy
The focus then switched to Ruth Davidson. The Tories, like Labour, won but a single seat in Scotland last week - although they had the minor compensation of securing an overall UK majority.
But then the Scottish Tories have had to get used to electoral penury in Scotland. For Scottish Labour, it is a novel joy. Yes, they have lost ground before but never on this scale. For the Tories, it is standard.
So there was no Davidson Dilemma. She just piled in, rather vigorously, also on the subject of education, voicing scepticism at whether the money devoted to raising the attainment of pupils from disadvantaged backgrounds would actually hit the spot.
To be clear, she was strongly supportive of efforts to help those from poorer families. She was simply questioning the efficacy of the current proposals.
Ms Sturgeon said that, in tandem with local authorities, the Scottish government would produce "robust and measurable plans". Ideology would play no part. She was open to ideas from all quarters.
No Willie Rennie this week. The Liberal Democrats, to their constant chagrin, do not have enough MSPs to merit a weekly outing for their leader.
Patrick Harvie of the Greens stepped in. If he was a substitute, he came off the bench with zest and power, delivering a philosophical panegyric for the welfare state and wishing odium on those who were seeking to cut benefits. Ms Sturgeon agreed.
Incidentally, best of luck to all pupils and students sitting exams at the moment. Stick in and do your best.