Sir Stephen House: Cutting inequality is key to cutting crime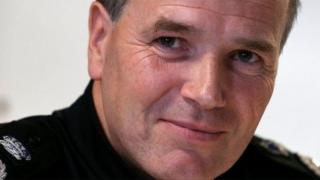 Tackling inequality is key to tackling crime, according to Scotland's most senior police officer.
Sir Stephen House is expected to tell a conference in Fife later that while police can identify and help prosecute offenders, they cannot change the underlying causes of crime.
Sir Stephen will also say improving life chances for all could help prevent crime.
Crime rates have been falling in Scotland for more than 20 years.
Addressing the conference of the Association of Scottish Police Superintendents, Sir Stephen will tell an audience of senior officers that tackling inequality and preventing crime would help break the generational chains of inequality which blight some communities.
He will also stress that while officers will always pursue serious criminals, resources will continue to be moved into crime prevention.
Elsewhere at the conference, the association's president Ch Supt Niven Rennie will tell Justice Secretary Michael Matheson that cuts to the police service budget are hitting the health and wellbeing of superintendents, who are the managers of the force.
He told the BBC's Good Morning Scotland programme: "We are really pleased of the commitment the government gives to policing in Scotland. That is not the issue.
"The problem we have is a shrinking budget. When you are red circling your police officer numbers and you have to make savings, then your savings come from elsewhere. It is a lot cheaper to employ a constable than it is to employ a superintendent.
"The argument our association is making is our numbers (superintendent numbers) have fallen dramatically but the demand still remains and that is causing a stress and anxiety on our membership."
Earlier this year, Sir Stephen indicated that he was likely to step down from his position next year, at the end of his contract.
Over the last 12 months he has faced considerable controversy over a number of issues, including the arming of police officers and the Police Scotland's stop and search policy.