Thousands attend vigils in Scotland for refugees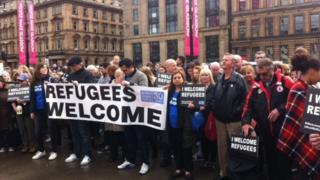 Thousands of people have attended candlelight vigils across Scotland to show solidarity for Syrian refugees and the victims of war.
Events were held in Glasgow's George Square, Holyrood, Dundee, Shetland, Orkney and other towns and cities.
The vigils aimed to send a message of support to all the refugees who have died, fled their homes and lost their families as a result of the Syrian war.
Similar "Europe Sees Syria" events were staged across Europe.
One of the first vigils was held in Shetland when about 60 people gathered in the centre of Lerwick.
People attending the Edinburgh event then joined a silent walk over the Radical Road along the Crags.
'Show of solidarity'
Alexis Stearns, who organised the Glasgow event, said: "As a wealthy country, many of our citizens want to register their disgust at how little our government is doing to tackle a very serious situation.
"We hope that other towns and cities will now be inspired to launch events so that we can send a message from every corner of the world."
Amer Masri, a Syrian in Edinburgh working to help the refugee crisis, said: "I love Scotland, what you are doing is so important for Syrian refugees, and not just Syrians, there are refugees from many places."
Marie Claire Lacey, human rights advocate and one of the co-ordinators of the "Europe Sees Syria" events, said: "It has been amazing that people have approached us from all over Europe and this has become a worldwide show of solidarity."
St Mary's Cathedral in Glasgow hosted "Glasgow Hears Syria", a musical response to the refugee crisis.
Funds raised by the event will be split between Amnesty International and the Migrant Offshore Aid Agency.