Forth Bridge 'is Scotland's favourite engineering work'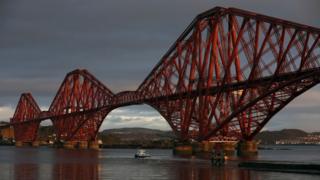 The Forth Bridge has been voted Scotland's favourite example of engineering.
The 125-year-old construction spanning the Firth of Forth took 49% of the vote in a survey of 1,000 Scots.
The Glenfinnan viaduct, which regularly featured in the Harry Potter films, came second in the poll with 13% of the votes.
The low carbon infrastructure taskforce commissioned the online survey for an initiative promoting "green projects".
The Forth Bridge was granted World Heritage site status earlier this year.
More than 4,500 men were employed in the construction of the bridge, which took eight years to complete and used 53,000 tonnes of steel.
Other engineering projects to feature included the Glasgow Subway and the Falkirk Wheel.
The taskforce has also published a report calling for new high-speed rail and energy schemes to become the "engineering projects for the 21st century and beyond".
Sara Thiam, chairwoman of the taskforce and regional director of the Institution of Civil Engineers, said: "The Forth Bridge continues to be an icon of civil engineering excellence and we're delighted that it has captured the public's imagination in this way.
"The bridge is a great example of how engineering expertise can be used to create infrastructure which stands the test of time and shapes the way we live well into the future."