Anger as breast cancer drug rejected for Scots NHS use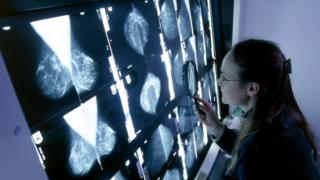 Breast cancer charities have hit out after a new drug failed to win approval from Scottish regulators.
The Scottish Medicines Consortium did not recommend everolimus, or Afinitor, for use on the NHS in Scotland.
Breast Cancer Care said this created a "postcode lottery" with the drug available in England, while Breast Cancer Now voiced "extreme concern".
Six new drugs to treat conditions including prostate cancer, stomach cancer and lung disease were approved.
The Scottish Medicines Consortium reviews newly-licensed medicines, advising NHS Scotland on which to accept for routine use, following consultation with patients and clinicians.
The group said it could not recommend everolimus due to "uncertainties surrounding the overall clinical benefit" it could provide for patients at the end of their lives, concluding the drug "may not be an effective use of NHS resources".
Chairman Prof Jonathan Fox said it was "disappointing we were not able to recommend everolimus", but he defended the decision.
He said: "We know this decision will be disappointing to both patients and clinicians, as we understand the devastating impact of breast cancer.
"However, uncertainty about the clinical benefits of everolimus meant we were unable to accept it."
Nicholas White, head of Scotland at Breast Cancer Care, said women living with incurable secondary breast cancer had been "failed yet again".
He said: "Everolimus is the fourth drug they have been denied in the past year.
"This devastating decision also creates a UK-wide postcode lottery, given the medicine is available in England and Wales, but not Scotland.
"Rather than just paying lip service to the views of patients, the Scottish Medicines Consortium and the Scottish government urgently need to review this process, ensuring the patient voice is at the very heart of decision making."
'Shattering blow'
Mary Alison, Scottish director at Breast Cancer Now, said the decision was "yet another shattering blow" to breast cancer patients in Scotland.
She said: "When it comes to accessing high cost, innovative medicines for secondary breast cancer, the system is failing women in Scotland.
"We are extremely concerned that all four drugs for secondary breast cancer that have been through the new process have been rejected. This is unacceptable.
"Pharmaceutical companies need to get around the table with politicians to make more drugs available for women with secondary breast cancer now."
The SMC did recommend approval for six new medicines, treating conditions including prostate cancer, gastric cancer and pulmonary fibrosis.
The group recommended trastuzumab, or Herceptin, for treating stomach cancer, and radium 223, or Xofigo, and abiraterone, or Zytiga, for prostate cancer.
Nintedanib, or Ofev, was recommended for use treating pulmonary fibrosis, a long-term disease of the lungs, while Ciclosporin eye drops, also called Ikervis, were approved for use treating dry eye disease and insulin degludec/liraglutide, or Xultophy, for treating diabetes.
Prostate Cancer UK welcomed the "fantastic news" that two new medicines were being approved.
Heather Blake, director of support and influencing at the charity, said: "This is an absolute triumph for everyone in Scotland who joined us in calling for men with incurable prostate cancer to be entitled to receive these life-prolonging and life-enhancing treatments.
"Now that the correct decisions have been made health boards must waste no time in ensuring that men who need these treatments can access them as soon as possible."