More Ebola nurse close contacts identified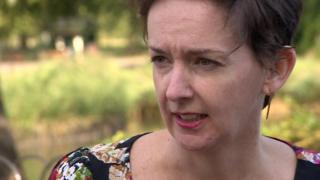 Health teams have now identified 65 close contacts of the Scottish nurse who is critically ill with Ebola complications in a London Hospital.
Pauline Cafferkey was readmitted to a specialist isolation unit at the Royal Free Hospital last week.
Ms Cafferkey, 39, from Cambuslang in South Lanarkshire, contracted Ebola while working at a treatment centre in Sierra Leone last year.
From the contacts identified, 26 have been given a trial vaccine.
The 65 who have been identified represents an increase of seven from the previous figure.
It is understood that the new contacts are all health professionals who have been helping to care for Ms Cafferkey.
Health officials have said it is unlikely they will now identify many more people who have come into contact with Ms Cafferkey.
The Scottish nurse spent almost a month in isolation at the Royal Free at the beginning of the year after the virus was detected when she arrived back in the UK.
She was later discharged after apparently making a full recovery, but it was discovered last week that Ebola was still present in her body.
Bodily tissues can harbour the Ebola infection months after the person appears to have fully recovered.
A statement released by the hospital on Wednesday said: "We are sad to announce that Pauline Cafferkey's condition has deteriorated and she is now critically ill.
"She is being treated for Ebola in the high level isolation unit at the Royal Free Hospital."
Officials had previously identified 58 people who were deemed to have been in close contact with Ms Cafferkey.