Consultation on shock collars launched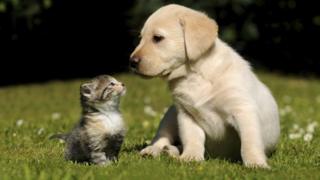 The Scottish government is to carry out a public consultation on whether electric shock collars used to train cats and dogs should be banned.
The consultation will ask whether the collars should be controlled more strictly - or outlawed altogether.
The collars deliver a remote controlled shock which can be used to punish the animal for bad behaviour.
Campaigners say the practice is "cruel and completely unnecessary".
Electric shock collars have been illegal in Wales since 2010 - with penalties including fines of £20,000 or up to six months in jail.
Sweden, Denmark and Germany have also banned the controversial collars.
Effectiveness questioned
But supporters of the collars argue that they can be used successfully as a last resort - and have compared the pain inflicted to a static shock.
The public will have 12 weeks to contact the Scottish government with their views on the subject.
Rural Affairs Secretary Richard Lochhead said: "Over the past while, I have heard strong arguments for a ban on electronic training aids on the grounds of animal welfare.
"As well as valid concerns about the potential for misuse of some these devices, I have also been made aware of situations where these training aids, when used properly, have benefited animal welfare.
"This consultation seeks views on whether electronic aids in Scotland should be subject to tighter controls - like those in New Zealand and Victoria, Australia - or whether the devices should be banned outright, as has happened in other countries such as Wales, Denmark and Germany."
The consultation follows a petition to the Scottish Parliament to ban electric shock and vibration collars which was lodged earlier this year.