'No progress' on Scottish diet, says Food Standards Scotland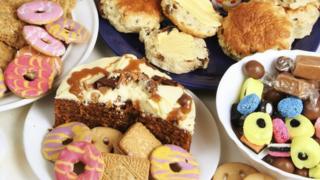 Scotland's new food standards body has recommended tougher targets for healthy eating after finding "little or no progress" over the past 15 years.
The Food Standards Scotland (FSS) board was set up in April.
It has recommended that Scots should increase their fibre intake to 30g per day and have no more than 5% of their total energy from sugar.
Previous dietary goals, including a target to have no more than 11% energy intake from sugar, have not been met.
The current intake of food energy from sugar is 14.4%, the FSS said.
It said 50% of the sugar consumed by Scots comes from discretionary foods, such as biscuits, cakes, confectionery, savoury snacks and sugar-sweetened drinks.
The FSS has published a situation report which collates and presents current evidence to provide information for policymakers.
The report says:
65% of the Scottish population are either overweight or obese but three-quarters believe they have a healthy or very healthy diet
About half a million people in Scotland are at a risk of developing type 2 diabetes
The Scottish diet is too high in calories, fats, sugars and salt, and too low in fibre, fruit and vegetables
There is a need to reduce the consumption of "discretionary" food and drink, which have lots of calories and little nutritional value
FSS chair Ross Finnie said: "The Scottish diet is not improving and the problem of diet-related ill-health is now spanning the generations.
"There is a disconnect between the scale of the problem and how healthy people believe their diet to be.
"We all need to recognise there is a problem and everyone including consumers, the food and drink industry, retailers, media and government has a part to play in finding a solution."
Public health minister Maureen Watt said:"We recognise that there are issues with the Scottish diet and that many of these are long-standing, however there are some indications of progress in recent years, for instance a reduction in the purchase of sugary drinks.
"We are working to ensure that everyone in Scotland has the opportunity, ability and confidence to access a healthy diet for themselves and their family."