Overcrowding warning over Scottish female prison plans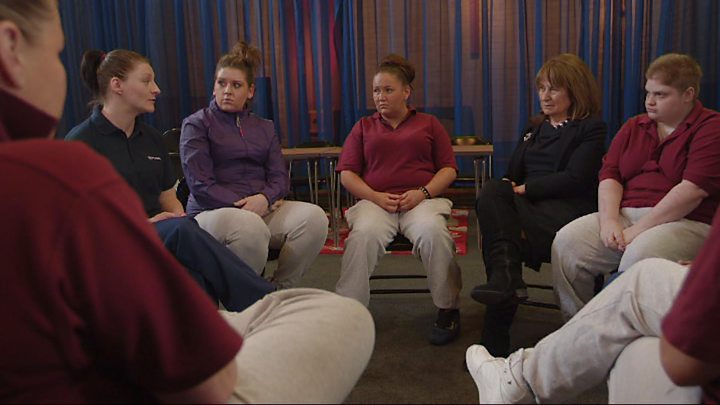 Experts have questioned whether plans to transform the way Scotland locks up women will lower the prison population.
The closure of Cornton Vale begins this year. It has a capacity of 375 and will be replaced by an 80-bed jail and five regional units holding 20 women each.
Canada closed its large women's jail in the 1990s and built five regional units but it has had overcrowding issues.
Justice Secretary Michael Matheson told a BBC Scotland investigation Scotland's plans differed from Canada's.
He said "robust" community alternatives would need to be in place to divert people away from custody or from the courts.
Scotland already jails more women than almost anywhere in northern Europe, with the number of female inmates doubling in a decade.
There are concerns that without changes to sentencing policy and alternatives to jail there could be a temptation for sheriffs to think that prison was a more attractive option.
---
A criminal justice system designed for men

The BBC Scotland documentary - "Women Prisoners: Throw Away the Key?" is presented by leading human rights lawyer Baroness Helena Kennedy.
She said: "One of the great scandals is that we have seen a massive increase in the numbers of women going to prison yet no significant change in the seriousness of women's offending.
"Women very rarely commit serious crime. It is all low level offending and invariably is as a result of wretched circumstances."
There are far fewer women in Scottish prisons than male inmates.
And they differ because they are more likely to be jailed for relatively minor offences such as shoplifting.
More women than men are put on remand - kept in prison before their case has been heard in court or before they are sentenced.
Two-thirds of female admissions to Scottish prisons are for remand.
And about 80% of women on remand do not go on to receive a jail sentence, a situation which has been criticised because many remanded women struggle to keep custody of children and retain their tenancies.
About eight out of every 10 women in Scottish prisons are serving six months or less. The latest figures show that 69% of women serving those sentences were reconvicted within two years.
---
A more radical approach
Justice Secretary Michael Matheson was widely praised last year for scrapping plans to replace Cornton Vale with another large 300-capacity prison for women. He said Scotland had to take a more radical approach to deal with female offending.
The minister announced new plans to replace Cornton Vale with a much smaller facility near the same site in Stirling. The new prison will house 80 female inmates serving long-term sentences and those presenting a risk to the public.
Women serving short sentences and those on remand will be held at one of the five regional units across the country. They will be run by the Scottish Prison Service, with prison officers taking on a more therapeutic role alongside care professionals.
Mr Matheson has also announced that £4m will be spent on increasing the use of community sentences for both men and women offenders.
Rhona Hotchkiss, governor of Cornton Vale, who is leading the new development, said: "They won't look like prisons; they will look like the buildings that are around them, so there won't be any barbed wire or bars on the windows.
"A lock on the outside door? Absolutely. But within the units women will live in a small flatted house. There will be four or five women to a house, they will be sharing living and dining and cooking facilities, and all have the keys to their own doors.
"When the women go to these units after a period of assessment, they will be out and about accessing the community, using local health services, education, perhaps going to visit their families. I need to emphasise that these will be women whose assessed risk is low."
What happens to the children?
95%
stay with mother when father is jailed
17%
stay with father when mother is jailed
PA
A similar scheme was introduced in Canada in the late 80s, after a task force recommended closing the country's large Prison for Women, and establishing small regional facilities for women offenders.
However, in the intervening years the number of female prisoners have more than trebled, from 203 in 1989 to 676 in 2014-15.
Kim Pate, executive director of the Canadian Association of Elizabeth Fry Societies, said: "It was cast as one of the best reform initiatives internationally.
"They were talked about as being cottage-style, community-integrated, not having fences and staffing being really about providing support and therapeutic interventions.
"Unfortunately now, 26 years on, it's been not a dismal failure but pretty darn close and we have now more than three times the number of women in prison.
"We see judges and lawyers actually saying let's send the women there because there's a presumption there are more programmes.
"And in actual fact there are fewer vocational opportunities than existed at the Prison for Women. The massive overcrowding is leading to not surprisingly fewer resources."
She added: "We started off with the idea that our units would be small community-based, allowing women greater access. Our country's a lot larger than Scotland but those sorts of issues I think would be similar in terms of any country."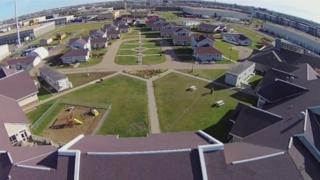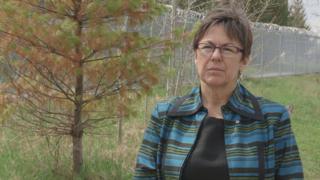 ---
Scotland's prison reform
Concerns have also been raised over the Scottish government's plans here in Scotland.
Cyrus Tata, professor of law and criminal justice at the University of Strathclyde, said: "We should applaud the imaginative and bold work that the Scottish Prison Service (SPS) is doing to try to reconfigure what prison is like.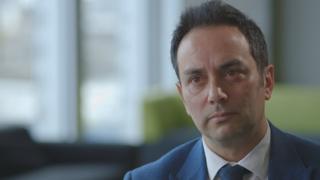 "But on its own, it is not going to be the answer because what will happen is that prison will only become a more attractive place to send people, who have not committed serious offences, but who have complex needs."
Phil Fairlie, chairman of the Prison Officers' Association Scotland, said his members were keen to take on a different role in the new regional units, but that the scale of the cuts to prison places would be difficult to achieve.
"I think the numbers are optimistic because I'm not sure yet that all that's in place that needs to be in place outside of prison, not just inside," he said.
"It's going to require a change in terms of our courts and sentencing policy."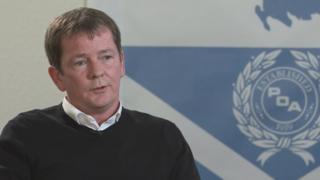 The justice secretary said: "Building five units for a maximum of 20, which will give us less capacity than we have at the present moment, is not simply going to be the answer to this.
"We've got to make sure that we've got good strong robust community alternatives in place so that we can either divert people away from the custodial environment or divert them away from the justice system in the first place, to reduce the risk of them committing offences."
---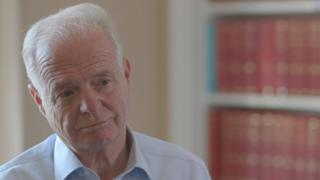 Sentencing variation
Statistics released under Freedom of Information legislation have shown significant variations in the proportion of jail sentences handed down in sheriff courts across Scotland.
Courts like Stirling, Kilmarnock and Dundee were jailing nearly 20% of women appearing before them, compared to 7% in Edinburgh and 5% in Airdrie.
The judiciary said it was not appropriate for an active sheriff to be interviewed for the programme, but retired sheriff Peter Gillam gave the view from the bench. He served as a sheriff from 1991 until 2013, and said the variations reflected the independence of the judiciary.
He said: "Every judge is his own person or her own person, and they all have different ways of dealing with things. They all have different views and they are all independent."
Read how many women were sentenced in each of Scotland's sheriff courts
---
Alternatives to custody
The BBC Scotland investigation heard from two of those community alternatives - Tomorrow's Women and the 218 project - which can be recommended by sheriffs as an alternative to prison.
At Tomorrow's Women, which deals with the most hard-to-reach women in Glasgow, reoffending rates among the 75 current users have dropped by 42%.
The 218 project has a 12-bed unit, and is the only service in the country offering residential services for female offenders. After admission, the number of shoplifting charges dropped from a total of 1,719 among all service users in the six months before referral, to 40.
Despite the apparent success rate of community alternatives, the documentary heard criticism about their funding.
Lisa MacKenzie from Howard League Scotland, a penal reform charity, said: "Even some of the best known projects in Scotland don't have financial certainty year to year. It is a hand-to-mouth existence.
"Prison, year to year, doesn't have to prove itself. It's given its £350m to run, and yet we know that prison doesn't work, particularly for people who are sent there for short sentences.
"But these community services are required, understandably, to justify their budgets and show that they're having an impact, to show that they're contributing to reducing reoffending.
"There isn't parity with the prison service. There's a huge imbalance in resources."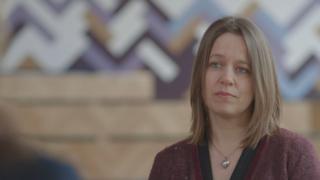 Mr Matheson said: "We've been providing Scottish government funding to community-based organisations to look at different models that can help to reduce the risk of a woman receiving a custodial sentence by providing specific services in their areas.
"I accept there may be times when sheriffs feel as though there aren't alternatives there but I don't accept that's always the case.
"I believe there are times when sheriffs could make other decisions around where they think someone should actually go to to meet their needs."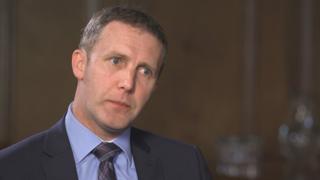 A spokeswoman from the Judicial Office for Scotland said: "Sentencing is a matter for the judge in each case taking into account the particular facts and circumstances.
"These may include the need for the courts to protect the public, to mark the seriousness of the offence and to secure the offender's rehabilitation.
"Training is provided to all judges and sheriffs on the sentencing of women offenders. It is also made available on sentencing in general, including the sentencing options which may be applicable."
Women Prisoners: Throw Away the Key? will be broadcast on BBC One Scotland on Wednesday 15 June, at 21;30, and for a month afterwards on the BBC iPlayer.