Football hate crimes rise by almost 50% in last year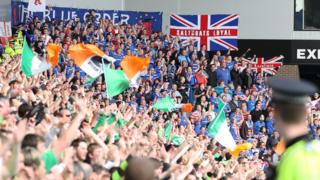 The number of hate crime offences in Scotland relating to football have risen by 49% in the past year, new figures have shown.
There were a total of 287 of these crimes reported in 2015-2016.
They related to 117 fixtures across 29 stadiums, up from 54 games played at 21 stadiums the year before.
Justice Secretary Michael Matheson said the Offensive Behaviour Act was an "important tool" in tackling offensive behaviour, including sectarianism.
The hate crime figures, released by the Scottish government, showed that 581 charges with a religious aggravation were reported to the Crown Office and Procurator Fiscal Service (COPFS) in 2015-16, a 3% increase on 2014-15.
Racial crime
The number of charges where Islam was noted almost doubled from 71 charges in 2014-15 to 134 charges in 2015-16.
Overall, there was a slight increase in the number of hate crimes reported, with racial crime the most common.
There were a total of 3,712 racial charges reported in 2015-16. However, this was a decrease on last year and the lowest number reported since 2003-04.
Other findings in the reports include:
1,020 charges were reported with an aggravation of prejudice relating to sexual orientation, up 20% on the previous year, and 201 relating to disability, an increase of 14%
Roman Catholicism is the religion most often noted in religiously-aggravated charges (51% in 2015-16), followed by Protestantism (24%) and Islam (23%)
The police were the victims in 41% of religiously aggravated charges in 2015-16.
Mr Matheson said: "There is no place in Scotland for any crime motivated by prejudice, be it racial, religious, homophobic or any other form of intolerance.
"While I am concerned at an increase in the number of charges on last year, including the rise in alleged offences against Islam, it does indicate an improvement in the willingness of the public to report these crimes, and that should be welcomed."
'Safer place'
He added: "The recent appalling scenes at the Scottish Cup Final demonstrated that the unacceptable behaviour of a minority of football fans continues to be a problem.
"An increase in the number of charges under the Offensive Behaviour Act shows that the legislation continues to be an important tool in tackling all forms of offensive behaviour, including sectarianism, and sends a clear message that such behaviour has no place in a modern, open and inclusive society.
"I have asked Scottish football to take further steps to address this long-standing issue and I expect to see progress on this imminently."
---
Football hate crime statistics
46% of the charges involved an accused aged 20 or under
There was an increase of 50% in the number of football teams that the accused were affiliated with
25% of the charges involved people with an affiliation to Rangers (71 charges) compared with 9% (27 charges) affiliated to Celtic
The majority of cases happened at a football stadium (50%), followed by a main street (24%) and public transport (23%)
Charges were connected to 117 fixtures - a rise of 117% from 54 fixtures in 2014-15
The fixture with the highest number of charges was Hearts v Kilmarnock (20 charges) on 3 October 2015
The local authorities where the majority of the charges took place were in Edinburgh (20%) and Glasgow (20%)
---
The justice secretary said recorded crime in Scotland was now at its lowest level in 41 years and the country was becoming "a safer place".
"But one incident of hate crime is one too many," he added. "Intolerance in any form is simply unacceptable and there is no place for it in 21st Century Scotland."
'Police priority'
Ch Supt Barry McEwan, of Police Scotland, said: "Tackling hate crime is a priority for Police Scotland and we are committed to rooting out crimes motivated by prejudice.
"Last year we ran a highly successful anti-hate crime campaign which reached many people and our commitment to eradicating hate crime continues.
"Today's figures provide evidence of our efforts but they also show that we must continue to work within all our communities to encourage reporting and to get the message across that hate crime will not be tolerated.
"Police Scotland remains committed to ensuring that there is no place for prejudice in Scotland and, together with our partners, we will keep the communities of Scotland safe."
Speaking about the rise in football-related hate crimes, the Scottish Conservative's justice spokesman Douglas Ross said: "The Scottish government can't have it both ways. When the number of charges went down it celebrated the legislation.
"Now, after a 50% hike, it still seems to think the law's working a treat.
"It's bad and unnecessary legislation and it needs to be scrapped now."
Scottish Labour's justice spokeswoman Claire Baker said: "It is deeply concerning to see a rise in hate crime in Scotland.
"As a tolerant and inclusive society, Scotland has no place for such prejudices and the country must unite behind tackling these shameful acts.
"With the doubling of Islamic hate crimes and the year-on-year increases in crimes relating to both sexual orientation and disability it is clear the Scottish government must take greater action to reverse the increase in these crimes."