Fourth day of ScotRail staff strike action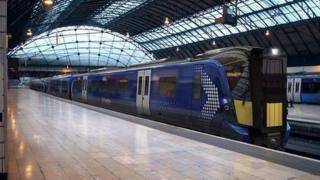 ScotRail staff have walked out for the fourth time in a week - leaving train passengers to face further disruption.
The action is being taken by RMT members in a dispute over proposals to operate more trains without guards.
The union announced seven days of strike action in Scotland on 14 June. The first three walkouts were on Tuesday, Thursday and Saturday.
There will also be further 24-hour walkouts on Sunday 3 July, Sunday 10 July and Sunday 17 July.
On Thursday, ScotRail's managing director Phil Verster said he would hold fresh talks with union leaders but his offer was dismissed by the RMT as a "stunt" and "classic divide and rule".
The union said it was consulting mediator Acas but said the weekend strikes would go ahead.
It said a majority of its members had voted for strike action in a ballot with a 75% turnout.
The first walkout was held on Tuesday in a dispute about driver-only-operation or DOO trains.
This is where the driver is asked to close the doors at stations, instead of the on-board conductor.
Drivers have CCTV in the cabs to check people are clear of the doors, but the unions have said this is not safe and passengers will get hurt.
However, ScotRail said it would always schedule a second person on trains.
It also claimed that 59% of its customers currently travel on a train where the doors are safely opened and closed by the driver.
The company also said it guaranteed that all of its conductors would keep their jobs, pay and conditions.