Staff at four Scottish universities strike over pay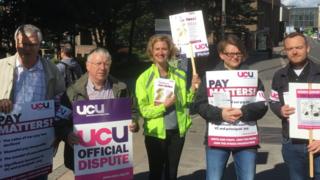 Staff at four Scottish universities have walked out on strike in a dispute over pay.
The University and College Union (UCU) Scotland said its members at St Andrews, Strathclyde, Dundee and Abertay walked out on Tuesday.
It follows a two day national strike in May over a 1.1% offer from the Universities and Colleges Employers Association (UCEA).
The UCEA said the decision to take strike action was "disappointing".
Mary Senior, UCU Scotland official, said the strike marked a "significant escalation" in the dispute.
"This reflects the genuine anger at the high-handed way the employer has handled these negotiations.
"Our members don't take going on strike lightly, but after six years of real terms falling pay they have little option," she added.
'Little impact'
The UCU said the dispute also focused on the use of zero-hours contracts in universities and the gender pay gap.
Its members are also working to contract as part of the dispute, refusing to set additional work or take on voluntary activities.
Some previous strikes have been held on university open days but a spokesman for the UCEA said they have been told that the action has had "very little impact".
He added: "Higher education institutions tell us that the majority of their staff understand the financial realities for their institutions and the need to showcase their courses and campuses effectively.
"Rather than ask their members to try and inflict damage on themselves, their colleagues, their students and potential students, we would like to see UCU actually consult its members on all the elements of a full, fair and final offer which addresses gender pay gaps and hourly paid employment alongside offering a pay uplift that is 0.8% above inflation and with pay progression will total 2.7% at sector level."