Nice attack: Scots holidaymaker describes narrow escape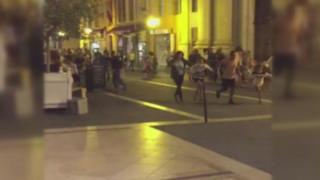 A woman from Perthshire has spoken of her narrow escape after a lorry careered through a crowd in Nice killing 84 people.
Sandra Kinloch, from Stanley, said the truck passed two metres from her on the promenade, where thousands of people had been celebrating Bastille Day.
The driver ploughed on for 2km (1.2 miles) before being shot dead by police.
Officers reportedly found guns and grenades inside the truck.
French President Francois Hollande said the attack was of "an undeniable terrorist nature".
Ms Kinloch, who is in the southern French city with her husband on holiday, told BBC Scotland: "I was walking on the promenade and seconds later the lorry didn't have its lights on, so we could just hear it."
She added: "It was coming at speed and it was noisy and kicking over bins and things. We were just so lucky to get out of the way at the right time.
"We realised something had happened straight away when we got back.
"I just want to go home but we're stuck now, it's awful."
Downing Street has said a small number of British nationals have been injured.
'Eerily empty'
Kevin O'Hara from Inverness was in Nice, close to where the attack happened.
He was on his way to work in Ma Nolan's Irish pub when people started running: "People started running in front of me then they started running from behind me away from the promenade as well.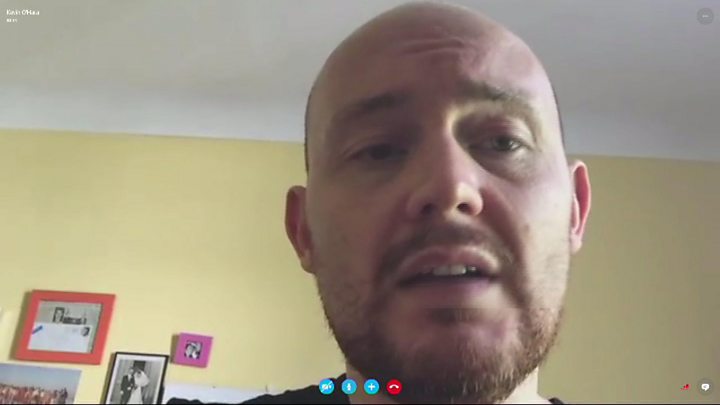 "They weren't screaming - it reminded me a lot of the footage we seen of the Paris attack. That made me very nervous."
When Mr O'Hara got into the bar, he watched what was happening on the TV.
"It really hits you when you realise that people are dead and they are just two minutes away from you.
"It was eerily empty outside the bar to begin with, then people started to drift in.
"We then started to look after people and tried to keep them calm and reassure them.
"They were nervous about coming into the bar at first - maybe they thought they had better chance of running.
Eventually, those in the bar were released by counter terrorism police in groups of ten and told to make their way home as quickly as possible.
Nicola Sturgeon called the incident "senseless" and said her thoughts were with all those involved.
'Security arrangements'
Speaking after her meeting with new Prime Minister Theresa at Bute House in Edinburgh, Ms Sturgeon said the people of France had already had to endure more terror-related incidents that any country should have to deal with.
She said: "I have spoken already to the Consul General to France here in Edinburgh to convey our condolences and our deep sadness at this attack, but also our solidarity in the fight against terrorism."
The first minister said that the Scottish government's resilience room was operational in response to events in Nice.
She added: "We're in close contact with Police Scotland, who as they always do, make sure that security arrangements are kept under review. We're also in close contact with the Foreign and Commonwealth Office and with Cobra, and indeed the prime minister and I have discussed this morning the importance of continuing to make sure that the Scottish and UK governments work together to help secure the safety of people across the United Kingdom."
Police Scotland Assistant Chief Constable Steve Johnson said security and safety arrangements had been reviewed by the force as a precaution following the Nice attack.
He said the review was not in response to any specific information but added: "Police Scotland is committed to ensuring all communities across the country are as safe as they can be and I would ask the public, especially around crowded places and transport hubs, to remain vigilant and alert, but not alarmed.
"If you suspect something is wrong, then report it to the police."
'Crudest forms of terrorism'
The French Consul General in Scotland, Emanuel Cocher told BBC Scotland's John Beattie programme that it was important that holidaymakers continued to visit his country despite the attack.
When asked if people had to accept that these kinds of incidents were going to happen, Mr Cocher said: "The crudest forms of terrorism are more difficult to fight. You can't, unless everyone is living in a bunker, you can't make sure that this will never happen."
He added: "As we said before, there will never be a 100% on no risk affecting anyone, but it is well appreciated that people carry on visiting our country, loving it, showing their solidarity with it, especially in these times."
Across Scotland tributes have been paid to those caught up in the attack in Nice and flags are flying at half mast.
Flags have been lowered at government buildings across the country, including at the Scottish Parliament in Edinburgh.
Holyrood's Presiding Officer Ken Macintosh said he was "shocked and deeply saddened" by the news from Nice.
He said: "The parliament's flags will fly at half mast as a mark of respect for those who have lost their lives and to show our solidarity with the French people.
"I will also be writing to the French consul-general today on behalf of the parliament to express our condolences. Our thoughts are with all those affected."
At the Open Championship in Troon the French flag was also lowered as a mark of respect. The R&A said black ribbons would also be made available for players to wear.
The Lord Provost of Edinburgh, the Rt Hon Donald Wilson, said his city had shared a "special relationship" with the people of Nice after the cities were twinned in 1958.
He added: "I will be formally sending a letter of sympathy to the Mayor of Nice and French Consul General but words can hardly do justice in the wake of such an horrific attack."
'Team France'
At the Homeless World Cup in Glasgow, where nationals from 52 countries, including France, are competing in matches, co-founder of the event Mel Young said all the players had been affected by the attack.
"We're devastated at this loss of life, and for the people of France - and every country - affected by this atrocity", he said.
"We stand together with our friends from Team France today, shoulder to shoulder, providing all the support they need."
The former SNP MP for North East Scotland, Christian Allard, who is a French citizen, told the Good Morning Scotland programme that Thursday should have been a day of celebration for the people of France.
"It's a lively city and we've many, many people there on the 14 July. The 14 July is a day of celebration for towns for villages and it's now got a black mark."
He said he had been in contact with family who lived in the south to make sure they were safe.
He added: "I'm sure the people of Scotland will react the way they reacted before, in full solidarity and all of our thoughts are with the people who lost their lives, all the victims and their families."
The attack began shortly after the end of a firework display on the seafront in Nice, at the end of a day marking France's day of independence, Bastille Day.
Social media video showed people running through the streets in panic following the incident.
"It zigzagged - you had no idea where it was going," Nice resident Wassim Bouhlel told French media.
No group has so far said it was behind the attack, however prosecutors said the inquiry would be handled by anti-terror investigators.
---
Are you in Nice? Did you see what took place on Promenade des Anglais? If it is safe to do so, please get in touch. Email haveyoursay@bbc.co.uk
Please include a contact number if you are willing to speak to a BBC journalist. You can also contact us in the following ways: