Survey finds 'appetite' for local change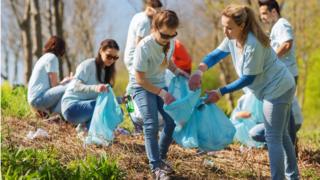 More than a third of people in Scotland have volunteered for a community group or helped set one up, a survey has found.
The 2015 Scottish Social Attitudes (SSA) survey also showed that 61% of people felt improvements to their local area were possible.
Almost 70% said they felt like they "belonged" to their local area.
The Scottish government said the results showed a "huge appetite" within communities to make "real changes".
The survey, run by ScotCen Social Research, asked people about their local area and community participation.
The overwhelming majority - 96% - said they thought local people should be involved in the design and delivery of public services.
Communities Secretary Angela Constance, said: "That is great news for all our local communities and we need to use the energy and enthusiasm out there and support people who so clearly have the ideas and drive to make their own local services better.
"We all want to make our communities better places to live and this will only be possible by working together and putting people at the heart of service design and delivery will enable public services to flourish."