Outlander author Diana Gabaldon inspired by men in kilts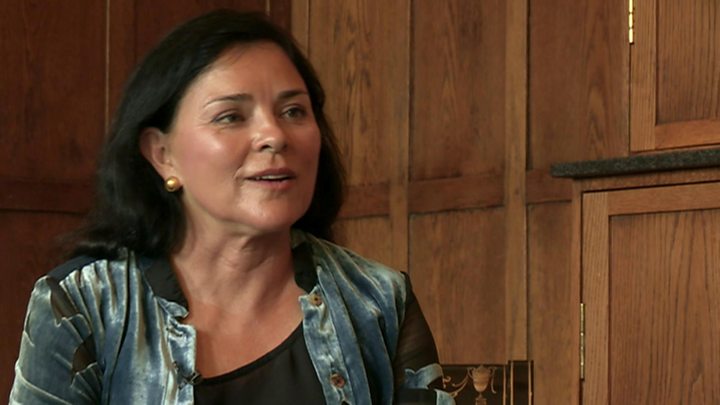 The author of the Outlander novels has revealed the sight of kilted men in an episode of Dr Who inspired her to write the best-selling books.
Diana Gabaldon admitted she had no knowledge of Scotland's history before penning the novels - which inspired the hit TV series.
She said the men in kilts image was a "powerful and compelling" one which affected her work.
The author told BBC Alba: "It stayed in my head."
In an exclusive interview to be shown on BBC Alba on Thursday, Ms Gabaldon told Cathy MacDonald she never expected anyone to read her first novel, "let alone publish it".
She said: "I didn't know anything about Scotland, but the image of the men in kilts stayed in my head.
"I wanted to have a strong female character to create a sexual tension and I decided to have an English woman to create conflict.
"Then as I started writing the character of Claire Randall, she just wouldn't speak like an 18th Century English woman at all.
"She was speaking in a modern tone of voice and, after wrestling with her for a few pages, I hit upon the idea of having her travel back in time."
The interview will be featured in the upcoming episode of Sàr-sgeoil: Outlander.
In it, Cathy MacDonald visits some of the Scottish locations which inspired the novels, including Culloden.
Ms Gabaldon said of the historic site: "I've walked on a lot of battlefields. Most of them are not haunted. That one is."
She also revealed why she became an author - and discussed the success of the books, which have gone on to sell more than 27 million copies worldwide.
Ms Gabaldon told the programme about readers' reactions across the world to the Scottish imagery in the book, and the "Outlander effect" that has been drawing hordes of enthusiastic fans to Scotland.
The hour-long episode also explores the facts behind the fiction and finds out about the Highland folklore drawn upon in the novels.
Sàr-sgeoil: Outlander, produced by Caledonia TV, will be broadcast on BBC Alba on Thursday 29 September at 21:00. It will also be available to view on BBC iPlayer.