Kirk announces Dr Derek Browning as next Moderator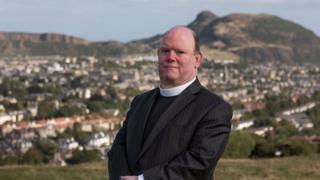 The next Moderator of the General Assembly has been announced by the Church of Scotland.
Dr Derek Browning will take over the 12-month role in May 2017.
The 54-year-old, who has served Morningside Parish Church in Edinburgh since 2001, said being nominated is a "huge privilege".
The minister said the church must react to the changing needs of society and that more work must be done to support people on the margins.
He said: "Being nominated as Moderator is the greatest honour the Church of Scotland can bestow."
Dr Browning, who is currently the convener of the General Assembly's Business Committee, will succeed the Right Reverend Dr Russell Barr as the Church of Scotland's ambassador at home and abroad.
A former pupil of North Berwick High School, Dr Browning graduated with the degree of Doctor of Ministry at Princeton Theological Seminary in the United States in 1997.
He opted to train for the ministry ahead of pursuing other graduate career options and, after graduating at St Mary's College in St Andrews, he was ordained at Cupar Old Parish Church in Fife in 1987.
The moderator designate, Dr Browning, said people find themselves excluded for all sorts of reasons and the church must play a role in bridging the gaps between individuals, communities and nations.