Woman speaks out after domestic abuser James McCourt is jailed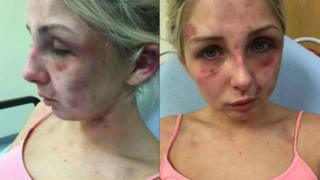 A domestic abuse victim who thought her boyfriend was going to kill her has spoken of her relief after he was put behind bars.
Kelsie Skillen, 18, was subjected to a four-hour ordeal by James McCourt at their flat in Milton in Glasgow.
McCourt, 19, bit her on the body, repeatedly punched her on the head and threatened her.
He was sentenced to 21 months and will be supervised for eight months after release.
Ms Skillen said: "I'm happy he has been sent away and can't get to me - I'm so glad."
During the attack, McCourt hid her phone and keys and locked the door to stop her getting out.
He told Ms Skillen: "You're going to have a bruised face tomorrow so I better do it right." He spat in her face and poured water over her.
'He just flipped'
Ms Skillen said she believed he was going to kill her as she drifted in and out of consciousness.
She said the attack started because she would not give McCourt a cigarette: "He said it was my fault, I had left his jacket, then he just flipped and grabbed me and attacked me.
"He had his knees on my chest so I couldn't get up and was punching me."
Ms Skillen finally managed to contact her mother for help, and she brought the police to the flat.
She shared pictures of her injuries on social media, saying: "I would never be able to forgive myself if I didn't tell people about this and another poor girl ended up in my situation."
At Glasgow Sheriff Court last month, McCourt admitted a charge of assaulting Ms Skillen "on various occasions" between 1 and 31 May this year, including bursting her nose open.
He also pleaded guilty to the prolonged assault on 5 June at the Egilsay Terrace flat and "detaining her against her will", and a separate charge of behaving in a threatening or abusive manner in a taxi before the assault.
Sheriff Sam Cathcart told McCourt the only appropriate sentence was a custodial one.
He also imposed a five-year non-harassment order which prevents him from contacting his ex-partner.
Speaking after sentencing on Thursday, Ms Skillen said: "During the incident I kept saying 'Is it worth going to jail?' and he said 'I don't care if I go to jail as long as you're dead'.
"I remember thinking, he is trying to kill me. He is dangerous."
"I kept screaming"
McCourt hid the keys to the flat, her phone and iPad as well as the connection to the internet and didn't let her out his sight for hours.
Eventually he left the room which gave Ms Skillen the chance to find her iPad and contact her mother.
She said: "My iPad only had 2% battery so I had to be quick, I was panicking and managed to get in touch with my mum.
"When she turned up I quickly ran to the buzzer, then he ran away."
Ms Skillen described screaming during the attack and banging on the floor in a desperate attempt to be heard by neighbours.
She added: "Eventually I realised the more I kept screaming the more he retaliated and attacked me, eventually I got to the point I stopped and he wasn't getting the reaction he wanted.
"That was when he started pouring the water over me. I drifted in and out of consciousness during the incident so I didn't realise it had been going on for so long."
The hairdresser and make-up artist, from Bishopbriggs, said she was "so relieved" when her mother turned up.
The court heard McCourt is suffering from post traumatic stress disorder and it was previously said he was "ashamed" of his conduct.
He grinned at his family in the public gallery as he was taken down to the cells.