Scottish youth football body reviews header guidelines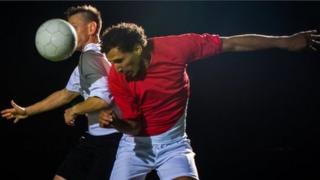 The governing body of youth football in Scotland is to "urgently" review its guidelines on heading the ball after new evidence that it can affect memory.
A University of Stirling study suggested repeated heading could impair recall for up to 24 hours.
The Scottish Youth Football Association (SYFA) said it would publish new guidelines "as soon as possible".
But chief executive David Little rejected suggestions that football should be avoided before exams.
The study, published in the EBioMedicine, identified small changes in brain function after players headed the ball 20 times.
Memory performance was reduced by between 41% and 67% in the 24 hours after routine heading practice.
The University of Stirling study followed a campaign by the family of former England, West Brom and Notts County striker, Jeff Astle, who died in 2002 from a brain trauma caused by heading footballs.
After reviewing the study, Mr Little said his organisation would update its guidelines at the earliest opportunity.
"We are aware of the urgency of the situation," he said.
He also said it would be "unadvisable" for a child of any age to do repetitive header drills with a football.
"We wouldn't recommend repetitions at all where by its 'one, two, three, four, five' - coaches should not be teaching children in that fashion at any age," Mr Little said.
However, he disagreed with a suggestion by one of the researchers that football practice should be avoided by young players ahead of key events such as exams.
Mr Little said: "There is no evidence that playing football before an exam has any detrimental impact on exam performance."
The SYFA is now working in conjunction with the researchers to create a set of guidelines about heading the ball.
'Sponge balls'
Forth Valley Football Academy (FVFA), a regional youth football academy based at the University of Stirling, released a statement saying it believed its practices were "safe and proactive".
But it said it would "slightly adapt" its programme delivery based on the findings, along with organising an event to "heighten awareness" of good practices among its staff.
When asked what the adaptations would involve, FVFA academy director Michael McCardle said he would not clarify the comment.
Mr McCardle previously told the BBC that the FVFA had already implemented a policy 18 months ago requiring children under the age of 13 to use soft sponge balls for heading practice.
The BBC has contacted the football academies at Rangers, Celtic and Hearts to request a response to the findings of the study - but has not received any replies.
The study is the first to detect direct changes in the brain after players were exposed to everyday head impacts.
Researchers fired footballs from a machine designed to simulate the pace and power of a corner kick and asked a group of football players to head a ball 20 times.
The United States Soccer Federation announced last year that it had outlined plans to to stop children aged 10 and under heading footballs, as well as limiting the amount of heading in practice for children aged between 11 and 13.