Specialist Parkinson's unit 'delayed'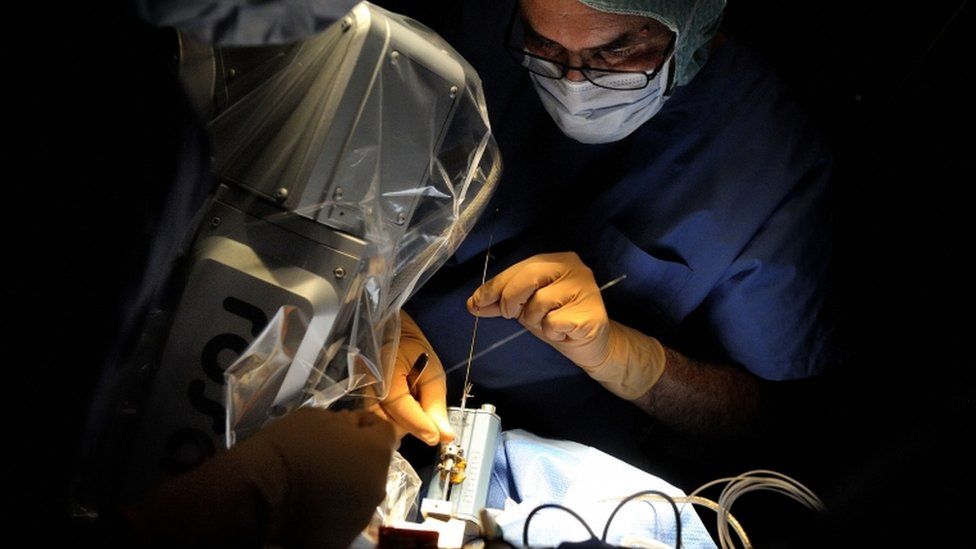 Plans for a specialist unit to treat patients with Parkinson's appear to have been delayed until next year.
The Scottish government had said the Scottish Centre for Deep Brain Stimulation (DBS) would open in Glasgow in the autumn of this year.
But Health Secretary Shona Robison has now indicated it will not be ready until the spring of 2017.
The charity Parkinson's UK described the delay as "devastating news" for patients in the north and north east.
The centre was announced in response to some Scottish patients having to travel to England for DBS treatment.
DBS involves inserting electrodes in the brain to reduce physical shaking. It is often the last option for people who have very serious symptoms which cannot be controlled through medication alone.
The surgery is offered to people with Parkinson's, "essential tremor" and dystonia, which is a rarer neurological disorder affecting movement.
But while people who live in the west of Scotland have been able to undergo the brain surgery in Glasgow, those in the north and east of the country have to travel to England for assessment, surgery and post-operative care.
After a long campaign by clinicians and charities, NHS Scotland made a national DBS centre - which would be able to treat all Scottish patients - the top priority for specialist service provision.
In a letter to Parkinson's UK in March, Ms Robison said NHS Scotland's national services division would be working to "help ensure that the DBS service goes live by the autumn".
But in a written response to a question submitted by Liberal Democrat MSP Alex Cole-Hamilton last week, Ms Robison said: "Preparatory work for the Scottish Centre for Deep Brain Stimulation is being carried out by the host board NHS Greater Glasgow and Clyde.
"The Scottish government expects the service to be implemented in Spring 2017, but this will be dependent on key posts being recruited and equipment being in place."
Specialist clinical posts
Mr Cole-Hamilton said it was "not acceptable" that a patient with complex health care needs should have to put up with the stress of travelling long distances for assessments, treatment and follow-up appointments.
He added: "The SNP must commit to a date and stick to it and not pass this off as a second-rate problem. It needs fixed now."
The charity Parkinson's UK called for assurances that the timescale for the new service would not slip again.
A spokesperson said: "This is devastating news for people with advanced Parkinson's in the north and east of Scotland, who have struggled with a disrupted service for more than four years.
"Families have been pinning their hopes on this potentially life-changing treatment being available in Scotland this autumn, as the cabinet secretary promised.
"People who need this surgery are typically extremely unwell.
"They now face a stark choice between a wait of at least six months for assessment and surgery in Scotland, or travelling to a centre in England."
NHSGGC said funding for the service was being provided by NHS Scotland's national services division.
Reacting to Mr Cole-Hamilton's comments, Health Secretary Shona Robison said: "As we've said before, the national service will be implemented by NHS Greater Glasgow and Clyde once relevant staff are recruited.
"The recruitment process to secure the very specialist clinical posts, including relevant neurosurgeons, is under way. In addition, the equipment procurement is well under way.
"Once everything is in place, the service is expected to be up and running by Spring 2017.
"Meanwhile, we continue to ensure that everyone in Scotland who is considered clinically appropriate for Deep Brain Stimulation treatment has access to it."
Related Internet Links
The BBC is not responsible for the content of external sites.