No Police Scotland officers are wearing hijab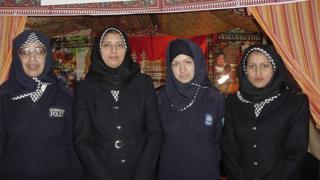 No police officers in Scotland are wearing a hijab as part of their uniform, BBC Scotland has learned.
It comes after Police Scotland revealed that three hijabs had been issued since they became part of their official uniform earlier this year.
The force initially said it was "unable to confirm if they are actually being worn".
It has now disclosed that the hijabs are used by their training department to show to potential recruits.
The Scottish police force confirmed in September that women from Muslim communities would be allowed to wear the religious headwear as part of their uniform.
In November, BBC Scotland asked the force how many officers were wearing the hijab as part of their uniform.
Uniform stock
In response to the freedom of information request, Police Scotland said it did not hold the information.
It added that six hijabs were brought into their uniform stock in September and three had been issued.
Officers and police staff always had the option to wear religious headwear but September's announcement ratified the use of the hijab.
It was part of an attempt to encourage Muslim women to consider pursing a career in the force.
Official figures showed that there were 127 applications from black, Asian and ethnic minority candidates in 2015-16. That was just 2.6% of the total number applying to work for the force.
In order to reflect the 4% figure across Scottish society, the force said it would need to recruit an additional 650 ethnic minority candidates.