Fox cub mistaken for abandoned puppy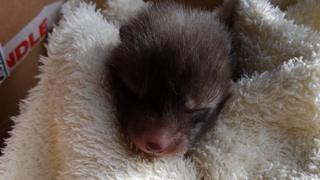 A week-old fox cub was mistaken for an abandoned puppy after it was found by a road and handed in to a vet surgery.
Animal rescue officer Sian Robertson said they were alerted when a nurse became suspicious while feeding it.
She said: "When I arrived, I took one look at the little fluffy animal and knew she was a fox cub - and a very cute one at that!"
The Scottish SPCA is caring for the animal, now named Husky, and it will be released into the wild in the summer.
Ms Roberston said they were contacted by Julie Innes Veterinary Surgery on Friday, after a nurse became doubtful it was a puppy.
She said: "The nurse had already wrapped her up so I took her up to our wildlife centre where she will be hand-reared with minimal human contact.
"Husky will then be introduced to other fox cubs and will be released during summer in a carefully selected site with the land owners permission."