Garden birdwatch survey records rise in 'exotic' waxwings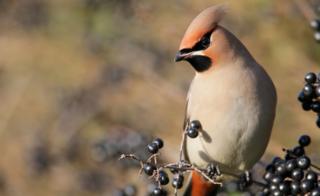 An annual bird survey has recorded an "explosion" in the number of rare waxwings visiting Scottish gardens.
The birds were spotted in about nine times more Scottish gardens than previous years, according to the 2017 RSPB Big Garden Birdwatch.
They are regularly seen in Scotland, but arrive in much higher numbers every seven or eight years when the berry crop fails in their native Scandinavia.
The RSPB said waxwings were "very striking, exotic-looking birds".
They have bandit masks around their eyes and are named after the brightly-coloured waxy quills on their wings.
More than 35,000 people in Scotland took part in this year's survey, which was carried out on the last weekend in January, with 626,184 birds counted.
The survey recorded 21 more waxwings than usually seen in Scotland because of the conditions in Scandinavia in autumn and early winter - a phenomenon known as an "irruption".
Big Garden Birdwatch - Scotland Top 10
| Rank | Bird |
| --- | --- |
| 1 | House sparrow |
| 2 | Starling |
| 3 | Chaffinch |
| 4 | Blackbird |
| 5 | Blue tit |
| 6 | Woodpigeon |
| 7 | Great tit |
| 8 | Robin |
| 9 | Goldfinch |
| 10 | Coal tit |
| Source: RSPB | |
Weather conditions leading up to the birdwatch also meant there was a rise in the number of visits from other migrant birds such as the redwing and fieldfare, as the sub-zero temperatures on the continent forced them to go in search of milder conditions.
Keith Morton, from RSPB Scotland, said: "The wildlife we see around where we live such as a blackbird singing from a rooftop or a robin perched in a tree is often one of the first experiences we have with nature.
"Having over 35,000 people in Scotland spend an hour taking part in Big Garden Birdwatch is fantastic and an indication of how much people enjoy seeing the wildlife that lives around them.
"Using the results from the 626,184 birds counted allows us to create a snapshot of how our garden birds are doing now, and compared to previous years."
House sparrows remained at the top of the Scottish Big Garden Birdwatch results, a position they have held since 2012.
Starlings climbed up one place to second, pushing chaffinches down to third. Blackbirds and blue tits rounded off the top five for 2017.
Waxwings were seen in higher numbers than usual across the rest of the UK as well and were spotted as far west as Wales and Northern Ireland.
Mr Morton added: "Their distinctive colouring and love for berries make them a great sight to see - something that more people will have been able to do this year."