Scotland's papers: 'Dear Theresa' and superbug crisis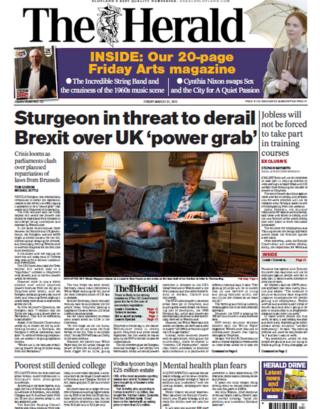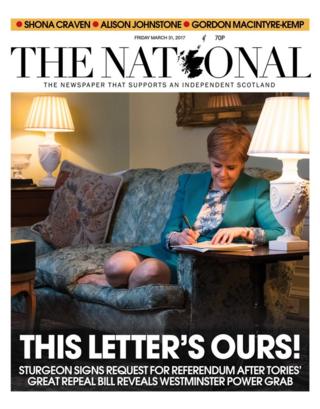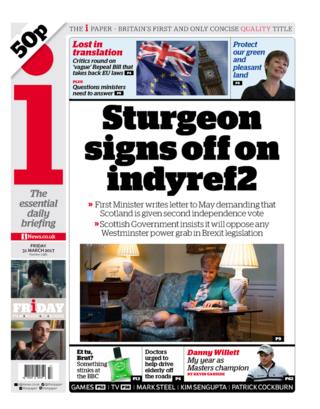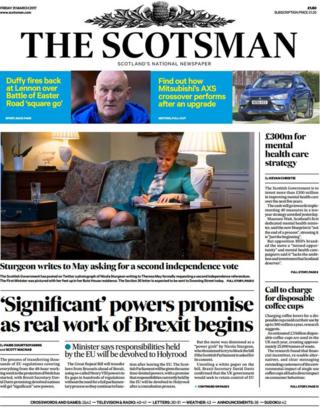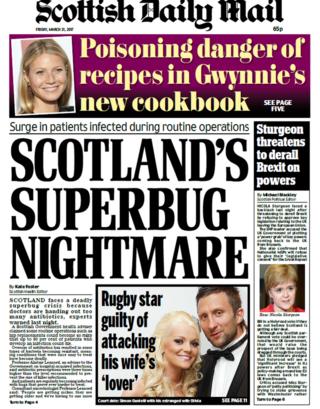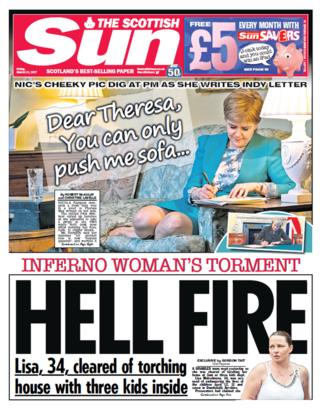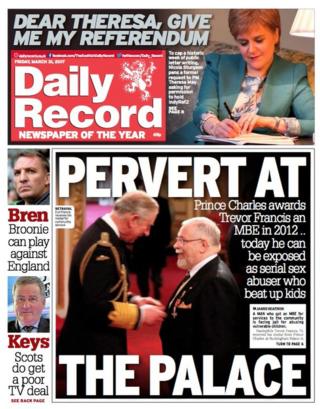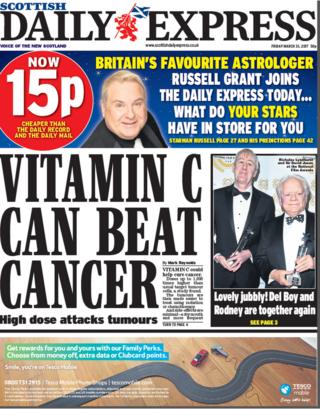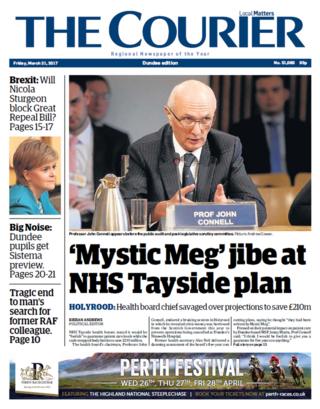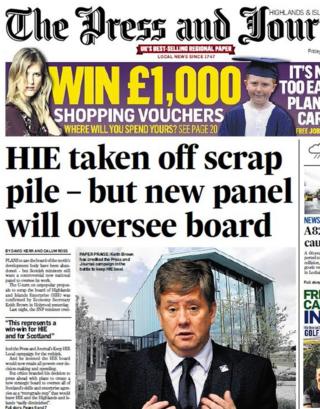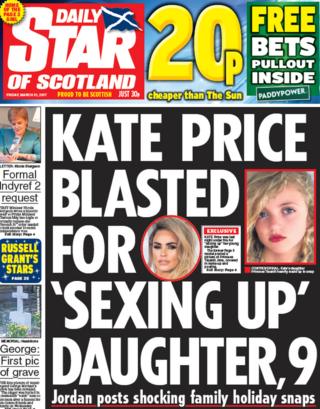 A photograph of Nicola Sturgeon curled up, bare-foot, on a couch at Bute House features on the front pages of many of Scotland's newspapers.
In it, she is said to be signing a letter to Prime Minister Theresa May, formally requesting the power to hold a second referendum on Scottish independence.
The Herald reports that Ms Sturgeon signed the document after claiming that the legislation needed to put Brexit into place was a "power grab that would strip Holyrood of its authority".
The dispute was described as "constitutional warfare" by The National. It said the first minister's spokesman had suggested that Holyrood would try to block the Great Repeal Bill, which would transfer thousands of European regulations into British law, should it encroach on Holyrood's authority.
The i leads with the same story, pointing out that the UK government's white paper said it expected the devolved administrations to see a "significant increase" in their decision-making powers.
But it goes on: "However, the document is vague about exactly what will be controlled at a UK level, stating that this will be subject to "intensive discussions" with ministers in Scotland, Wales and Northern Ireland."
The Scotsman says regulations covering everything from the 48-hour working week to the protection of birds will be transferred from Brussels ahead of Brexit, under the Great Repeal Bill.
Meanwhile, the Scottish Daily Mail reports that Scotland is facing a "deadly superbug crisis" because doctors are handing out too many antibiotics.
A disabled mother has been cleared of setting fire to her home while three children were asleep inside, according to the lead story in the Scottish Sun.
The Daily Record leads with a story about a 71-year-old man who has been convicted of sexually assaulting young girls at a children's home in Fife. Trevor Francis received an MBE for services to the community in 2012.
Large doses of vitamin C can help cure cancer, according to the front page story in the Scottish Daily Express.
The Courier reports criticisms of NHS Tayside's financial plans by former health secretary Alex Neil. "I thought they had been written by Mystic Meg," he is reported to have said.
The Highlands and islands edition of the Press and Journal leads with news that controversial plans to scrap Highlands and Islands Enterprise (HIE) have been dropped. But ministers will press ahead with plans for a new "national oversight panel".
A story about the nine-year-old daughter of Katie Price appears on the front page of the Daily Star.