Heart patients warned of medical equipment infection risk
By Lisa Summers
Scotland Health Correspondent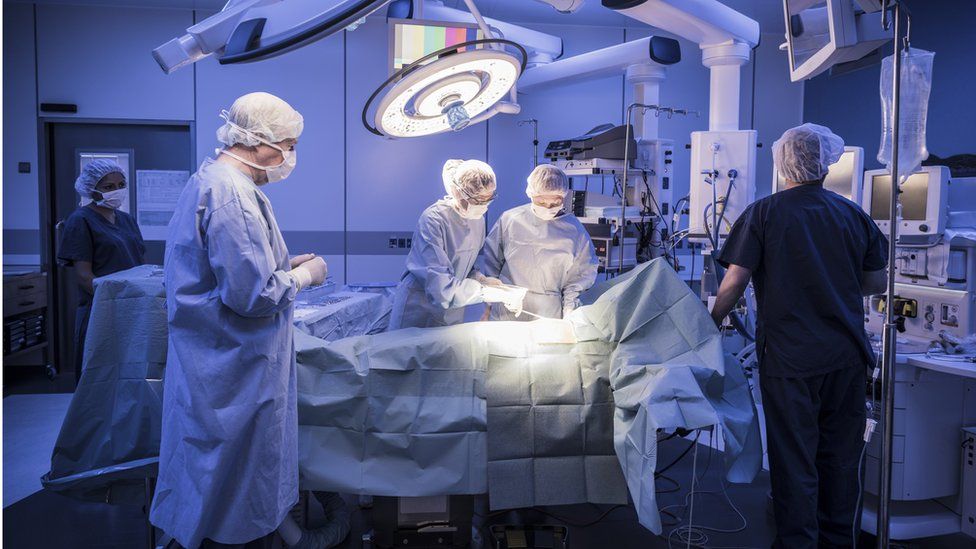 About 5,000 patients who have had heart operations in Scotland have been told they may have been exposed to a potentially deadly infection linked to medical equipment.
NHS Scotland has written to patients who have had valve replacement or valve repair surgery since 2013.
The alert also covers children who have had or are receiving congenital surgery.
Health Protection Scotland said the risk of infection is "very low".
The letters to patients warn of a "minimal risk" of contracting an infection caused by the bacteria mycobacterium chimaera.
It is thought that heater cooler units that are part of heart by-pass machines used during certain types of surgery might be contaminated by the bacteria.
The device is essential for carrying out these types of heart surgery.
NHS England has identified 26 cases in the UK and 15 people are known to have died from the infection.
There have been no cases identified so far in Scotland although the infection can lie dormant for a number of years.
The letter said the risk is very low but advises patients to contact their doctor if they begin to experience symptoms, even if the surgery was many years ago.
Unexplained fevers or night sweats
Unexplained weight lost
Increasing shortness of breath
Joint or muscle pain
Vomiting or abnormal pain
Abnormal levels of fatigue
Pain, redness, heat or pus around the surgical site
NHS Scotland set up a helpline that is in operation until 27 April.
The move followed a UK-wide investigation into the link between mycobacterial infections and the heart by-pass machines.
Dr Jim McMenamin, consultant epidemiologist for the respiratory team at Health Protection Scotland, said: "We have worked closely with our UK partners to ensure that patients who may be at risk are notified of this possibility.
"I would emphasise that there is no need for any patient to be unduly alarmed as the threat of infection is very low. However, we have a duty of care to patients to ensure that they are made aware."
Nick Phin, Deputy Director National Infection Service, Public Health England, added: "Following international alerts of a possible risk, Public Health England launched an urgent investigation and has identified a very low risk of infection to patients undergoing surgery where these heater-cooler units are used.
"We have made hospitals and clinicians aware of the possible risk associated with these machines which are essential for heart surgery and used across the world. We have also issued guidance to hospitals to advise how to manage this risk.
"Risk reduction procedures are now in place to improve the safety of the machines. Any infection risk associated with them is far lower than the risk of delaying life-saving cardiac surgery."
Dr Neil McGuire, of the Medicines and Healthcare products Regulatory Agency (MHRA), said: "Whilst there is a very small risk of infection associated with these machines, the risk is far lower than the risk of delaying important life-saving cardiac surgery.
"If you experience any problems associated with infection following surgery, it is important you speak to your doctor."
Anyone who is concerned about their risk is advised to call the helpline on 0800 028 2836. Further information is available on the NHS website.
Related Internet Links
The BBC is not responsible for the content of external sites.