Ex-Celtic Boys Club coach accused of abuse leaves the US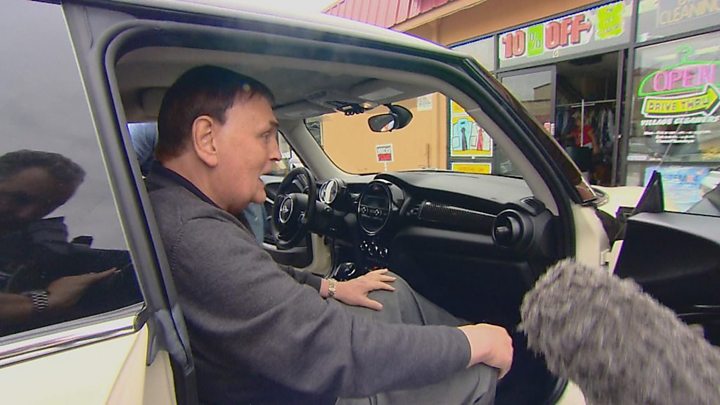 Ex-Celtic boys club coach Jim Torbett has left the United States following a visit from US Homeland Security, the BBC has learned.
Mr Torbett was tracked down by the BBC Scotland's investigations team in California and confronted last week.
The Celtic Boys Club founder and former coach, who has previously been convicted of sexually assaulting boys, faces fresh allegations of abusing young players.
He denies the allegations.
The BBC understands US officials ensured that Torbett left the country from Oakland International Airport. His final destination is unconfirmed.
Torbett was visited by officers from Immigration and Customs Enforcement (Ice) - Homeland Security's specialist investigative arm - within 24 hours of BBC Scotland story and agreed to leave the country voluntarily.
A US government source told the BBC that Ice officers visited him in Modesto, California.
They have not yet established that Torbett had violated any visa requirements, but advised Torbett that if it was established he had - and he was still in the US - they would look to apply the full effect of US law.
The source also said Torbett volunteered to leave the US during the course of the interview.
The BBC also understands Torbett will be added to a list of people who will not be permitted to enter the US again and that Ice officers are satisfied that the issue for them is now closed.
Last month, BBC Scotland aired allegations by two men that they were sexually abused by Torbett when they played for Celtic Boys Club.
One of them, Kenny Campbell, told the programme he was molested dozens of times by Torbett over a period of up to four years.
He told me: "I trusted the wrong person. It took me years and years to realise that. He's got a lot to answer for. A lot to answer for."
At the end of last week, BBC Scotland confronted Torbett and a man understood to be William Gilbert in Modesto.
Mr Torbett declined to answer the majority of the questions put to him about the abuse claims, but when asked what he had to say to Mr Campbell, he answered: "I have a lot to say. I'll see him in court."
He denied being a paedophile.
Torbett was travelling on an Esta, which is a visa waiver allowing a maximum stay of 90 days. Any convictions, spent or otherwise, are supposed to be declared to the US Embassy when filling out the form.
Sources in the embassy say someone with a child sex offence conviction would be very unlikely to be allowed entry to the US, so it is unclear what, if anything, Torbett has declared.
The United States does not have access to the Police National Computer, however, they can request details of criminal convictions on an individual request basis.
Failure to declare previous convictions on an Esta can be a criminal offence in the US.
It is understood Torbett is close to the 90 days maximum, and would be expected to return to the UK shortly.
A major police investigation is currently under way into claims that he, and others at Celtic Boys Club, abused boys there over several decades.