Victim says: 'Fraudster was pure scum'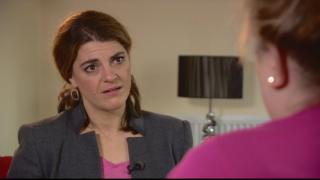 The daughter of one of the victims of fraudster Edwin McLaren says the conman is "pure and utter scum who preys on people who are at a low ebb".
The woman, who asked not to be named, told BBC Scotland her father had a major heart attack soon after he found out that McLaren had cheated him into signing away the ownership of his house.
She said: "His health has deteriorated quite badly since then and for the past five or six years he has been half the man he was.
"He's had two heart attacks and numerous in-patient stays. He just wants to curl up into a ball and die for what Edwin McLaren has done to him."
Her father had a house and had been looking to release cash to pay off debts and give to his children.
She said McLaren had seemed like a "knight in shining armour" but instead of a £30,000 equity release the paperwork her father signed was for the ownership of the whole house.
They only found out about it a few months later when they got a contract saying they were now tenants.
She said McLaren had appeared to be a "nice" man and her father had come to consider him a friend.
"I liked him to at the beginning but there was something that was not quite right and it niggled," she said.
"I did say to dad to go to a solicitor to get it checked out but because the trust was already there with Edwin he didn't want to do it."
She added: "I don't think dad should have gone into it lightly, I think he should have sought legal advice but that's when the confidence trickster part comes in.
"McLaren has this ability to make you feel loved, that you are part of his family and anything he does will be for your better quality of life."
She said she had never dealt with anyone as "charismatic" as McLaren and she herself got "rolled along" with his lies.
"Looking back, I wish we'd never met the man."
She said she now thought McLaren was a total "devil" who was "screwing with people's lives".
"He thinks he is above the law and he will get away with it and I don't think he should," she said.