New Saltire emoji arrives on Twitter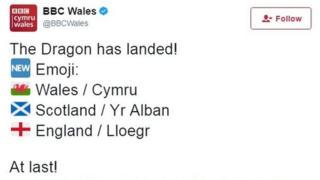 A new Saltire emoji flag has been released for Twitter users.
It joins new flags for Wales and England which have been created after a campaign by Jeremy Burge of Emojipedia and Owen Williams from BBC Wales.
Unicode, the authority on computer text and characters, agreed to add the three flags to the next release of emojis.
However, it will not be available widely on tablets and phones until technology companies like Apple and Google update their software.
In the meantime, the Saltire emoji can be copied from the Emojipedia website for use in patriotic tweets.
Mr Burge said anyone who uses Twitter via the website will be able to access the new emojis and they are expecting more platforms to support them no later than the end of the year.
Other emoji flags already available include those for Ascension Island, St Barthelemy, Curacao, Diego Garcia and Djibouti.