16 things we learned from the Craig Whyte fraud trial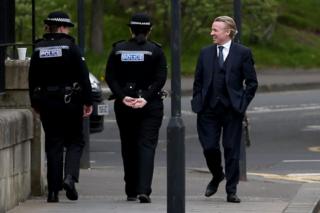 The six weeks of evidence which ended with Craig Whyte being cleared of fraud did more than shed light on his takeover of one of Scotland's biggest football clubs.
The trial also gave a fascinating glimpse behind the scenes at Rangers as the deal was being done. Here are 16 things we learned from the trial:
---
Ally McCoist's "golden contract"
The trial heard that when Rangers legend Ally McCoist became the club's assistant manager under Walter Smith, there was a penalty clause put into his contract that said if he did not become manager when Smith left, the club was going to have to pay him an "enormous" amount of money. Smith, McCoist's long-term mentor, only seemed to learn the full extent of the deal when he was given details in the witness box. He told defence lawyer Donald Findlay QC: "Mr McCoist obviously negotiates his own contracts, so he's possibly a bit brighter than I am."
---
Fallen empire
The trial heard that by the end of 2009, the business empire of then Rangers owner, Sir David Murray, was left "technically insolvent" after the global economic crash. Sir David said he was simultaneously hit by the collapse of the global steel and property markets and the collapse of the banking sector. Mike McGill said that at the time, the Murray group's liabilities were greater than its assets and that, if asked, would not have been able to pay its debts. A decision was made to sell Rangers as part of the Murray Group restructuring.
---
Rangers were in 'perilous' state
Former Rangers manager Walter Smith told the court that the club's finances were in a "pretty perilous state" when it was sold to Craig Whyte in 2011. Smith, who left his job three days after the takeover, said the club had a bank overdraft of about £18m when he first heard that Whyte would be its new owner. He acknowledged that Rangers' finances were "distressing" at the time and said a lack of investment or development in new talent had impacted on the club's performance. When asked if the club had been given an indication from the bank that it "had had enough of bank-rolling Rangers", Mr Smith said: "Yes, we had an indication of that prior to 2011."
---
Rangers discussed administration before Whyte
The board of Rangers discussed putting the club into administration months before it was bought by Craig Whyte. According to former financial director Donald McIntyre, the size of the club's financial liabilities meant it would have been "remiss" not to do so. He said Rangers faced a potential bill from HMRC of about £50m, which had been described as the "Big Tax Case". Defence QC Donald Findlay called the debt a "nuclear missile" that was heading straight for Rangers. He said it was "like an exocet, nothing could be done to stop it". Six years later the Big Tax Case is awaiting a Supreme Court ruling. Rangers won the first decision on the case but an appeal by HMRC was successful. Former owner David Murray insisted Rangers' financial woes before Whyte's takeover had been "grossly exaggerated". He said administration was never discussed while he was chairman of the club and he believed even by 2011 its debt was "manageable".
---
Fraudsters tried to buy Rangers before Whyte
The trial heard about a fraudulent attempt to buy Rangers before Craig Whyte came on the scene. Two individuals, said to have links to the brother of an English football boss, produced a letter from a Belgian bank stating they had 50m euros (£42m) to invest. But one of the pair was found to have the same name as someone banned from being a company director in the UK. The letter was also discovered to be "fraudulent".
---
Another offer was rejected over organised crime fears
Mike McGill, former Murray Group finance director, told the court that another offer came in and was to be funded by a Lithuanian bank. The court heard it seemed to have the "wherewithal" to complete a sale. But, Mr McGill told the court that the Murray Group became "extremely uncomfortable" dealing with the Lithuanian bank because of accusations it was involved in "organised crime and money laundering". There were also added concerns about any "furore" given the publicity surrounding the Lithuanian owners of another Scottish club. At that time, Heart of Midlothian were owned by Lithuanian tycoon Vladimir Romanov.
---
Whisky (not) galore
When he took to the witness box, Craig Whyte's then lawyer, Gary Withey, admitted that he initially thought his client was part of the Whyte and Mackay whisky group. Mr Withey said that Whyte had been portrayed as "someone with substantial financial wealth", when he first showed an interest in buying Rangers. He added: "Most people in the City would have said that."
---
Nothing spent on Craig Whyte checks
When asked how much was spent investigating Craig Whyte and his business ahead of the Rangers takeover deal, a key adviser to Sir David Murray admitted it had not been a lot. In referring to the amount spent on due diligence into Craig Whyte, David Horne told the trial: "Not very much at all. I don't know. Possibly nothing."
---
King warning
Two weeks before Craig Whyte took over Rangers, Dave King, then a director at the club, warned of a possible future police investigation into the Whyte takeover. His warning came in a letter in April 2011 to the statutory takeover panel, set up in relation to the deal. Mr King wrote of concerns about the source of Mr Whyte's funds to buy the club. Mr King said he was excluded from involvement in the takeover deal. Sir David Murray said this was not true.
---
Football madness
Craig Whyte lawyer, Gary Withey, said that before the Rangers takeover, he had told Whyte he would be "mad" to do the deal and urged him to walk away. He said he had been "shocked" about the lack of financial information that had been provided by the club's sellers. Mr Withey said Whyte responded to his concerns by laughing.
---
How old is this man?
Gary Withey, who was hired by Craig Whyte to see through the Rangers deal, was unable to tell the court how old he was. Prosecutor Alex Prentice QC asked Mr Withey to state his age - a standard question asked of all witnesses at the start of their evidence. After attempting to recall the year in which he was born, Mr Withey eventually settled on 52.
---
Paying the rent
Craig Whyte said his firm had £60m in assets, according to London financier John Newlands, who gave evidence in the trial. Mr Newlands said he had seen documents relating to Whyte's Liberty Capital company and in March 2011 Mr Newlands wrote a letter to the Murray Group stating Whyte could "comfortably underwrite" a possible £10m "rights issue". Mr Newlands also told the court that Whyte - who had been a potential business partner - once stepped in to pay a £2,100 rent bill when his own business was struggling.
---
Bank role
Senior Lloyds Banking Group manager Ian Shanks told the trial that it had played a strong role in the Whyte takeover. Lloyds inherited Rangers' multi-million pound debt after it took over the club's long time bank, Bank of Scotland. Mr Shanks said Lloyds was keen that the Whyte deal was seen through. He said Lloyds wanted its money back and wanted to get out of the football sector in general. Mr Shanks said Lloyds had no involvement in running Rangers. However, the Murray group appointed two members to the Rangers board, who were described as having a good working relationship with the bank.
---
Finish line
Gary Withey, Whyte's lawyer, told the court that Sir David Murray's advisers were "desperate" to get the takeover "over the line" and "did not seem to care" how Whyte was financing any deal. Mr Withey told the court: "This was the only deal I have been involved in where the vendor was pushing more than the purchaser."
---
Sealing the deal
The court heard that Craig Whyte's takeover of Rangers in May 2011 was sealed with a £1 coin being flipped across a table in Sir David Murray's offices. This symbolised the amount Whyte paid for Sir David Murray's majority shareholding in the club. The fraud case revolved around Whyte's commitment to use his own money to take on millions of pounds of the club's financial obligations, but the agreement put the cost of the Rangers shares at just £1. Finance broker Phil Betts, who worked with Mr Whyte on the deal, said the coin-flip took place during a meeting between both sides at the Murray Group offices in Edinburgh, the day after it was signed. Mr Betts said the coin was flipped in the direction of the Murray lawyers in a "lighthearted" manner. Mr Betts added that someone then said "Congratulations, you are now the owner of Glasgow Rangers football club."
---
"Our club"
The jury was never directly told that the man representing Craig Whyte - Donald Findlay QC - is a lifelong Rangers fan, a former vice-chairman of the club and has a long history with Sir David Murray, although these facts are well known outside the courtroom. One of the most memorable moments of the trial came when Mr Findlay was cross-examining Sir David. Mr Findlay put it to him that, after stepping down as Rangers chairman in 2009, the owner had been let down by people who didn't have a clue what they were doing. He said: "From you stepping down as chairman and Craig Whyte taking over, what had these men done to your football club, Sir David?" After a pregnant pause, Mr Findlay added: "What had they done to OUR club?" Sir David later replied: "I think the club was stalling."
---