Rescue team called to help climber hurt in Cairngorms rock fall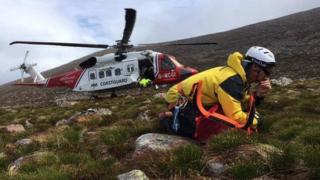 A dramatic rescue effort in the Cairngorms has been captured on camera.
Cairngorm Mountain Rescue Team (MRT) was called to help a climber who had suffered a serious arm injury in a major rock fall on Fingers Ridge.
Despite poor weather and the danger of rock fall, the rescue in "extremely dangerous" conditions was successful.
Team leader Willie Anderson said: "We were all a bit relieved to get the casualty clear of the ridge because of the appalling loose rock."
Pictures published on Facebook highlight the murky, windy conditions faced by MRT the during the operation on Saturday.
And a video shows team doctor Duncan Scott tied to an injured climber he helped down a 500ft (152m) rock face.
Rescuers only managed to reach the climbing party with the help of "some great flying" from Coastguard helicopter R951, a spokesman said.
The helicopter took them to the coire where two of them were lowered 200ft (60m) to reach the casualty, who was being cared for by a companion on a small ledge.
Mr Scott then helped lower the injured climber down the remaining 500ft (152m) to the base of the coire.
"With a combination of luck and careful rope management, we managed to get the casualty down with only a couple of the guys getting minor clips from rocks," the spokesman added.
Team leader Mr Anderson said: "This was a technically-tricky rescue in some pretty nasty conditions."
He added: "We don't tend to be called on to do as many big technical lowers as our friends in places like Skye, Lochaber and Glencoe, but the guys train hard so that we get it right when we have to take on a task like this."
The injured climber was taken to Raigmore Hospital in Inverness.
While the eight-hour rescue was in action, the team were alerted to a number of lost walkers on Bynack Mor.
Dave Rutledge, who was controlling the rescue from the team base, said: "Things got a little busy in the base as we were co-ordinating this big technical rescue, and also assisting another party off the hill with the help of Glenmore Lodge."