Scottish Book Trust reading project to help primary pupils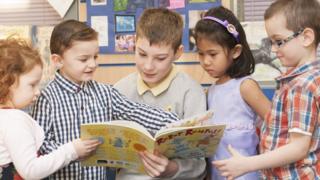 A shared reading programme is being launched after a charity claimed 13,000 children a year leave primary school in Scotland unable to read fluently.
The Scottish Book Trust says the pupils risk struggling in later life.
The charity has launched a campaign to help struggling or reluctant readers in 50 schools across the country.
It will involve older pupils reading to younger children and aims to "build their reading skills, confidence and enjoyment of books and stories".
Nicola Sturgeon last year launched her own First Minister's Reading Challenge designed to encourage children to read for pleasure and develop a life-long love of books.
Ms Sturgeon said at the time: "Encouraging children to read for pleasure not only helps our young people develop vital language and literacy skills, but also opens up a whole new world of adventure and fun through the exciting and varied range of books suggested."
'Important life skills'
In the latest Scottish Book Trust initiative, five local authorities have been selected to take part after £20,000 of funding was secured from the People's Postcode Trust.
They are Clackmannanshire, East Dunbartonshire, Glasgow, Stirling and South Ayrshire.
The programme will run for six months and will involve 2,500 children.
Free books and resources will be provided to participating schools, plus training in storytelling for older pupils and professional development training.
Marc Lambert, chief executive officer of the Scottish Book Trust, said: "The shared reading programme brings so many benefits to schools and the wider community by finding a route into reading that helps the reader and listener.
"It is a great way to engage children in the enjoyment of books while subtly boosting other important life skills such as confidence and forging links with others in their community."