'Significant results' claimed by police on organised crime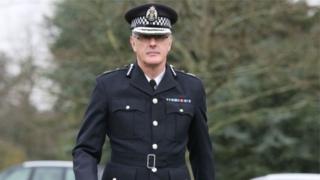 Police Scotland Chief Constable Phil Gormley has said his force is recording "significant results" in its efforts against organised crime.
Mr Gormley was speaking at the Scottish Police Authority (SPA) board meeting in Stirling.
He listed a number of arrests made in recent weeks, in addition to the recovery of firearms, £1.6m in cash, and quantities of drugs.
But he said organised crime groups were becoming increasingly sophisticated.
Mr Gormley said this could be seen in their way of working and their use of technology.
He noted that the past year had seen an increase in tensions between crime gangs in central Scotland, with significant acts of violence.
The chief constable told members of the police authority: "What I do expect is that over the coming weeks and months, we will continue to disrupt them.
"Our assessment is that in terms of their overall ability to cause harm, the events and the interdictions I have described have had a significant disruptive effect.
"Will it end it? Not completely, no. But we will continue to bring all that we can to bear on this, and those are significant results."
Misconduct inquiry
The chief constable is currently the subject of an inquiry over allegations of gross misconduct.
It is being led by the SPA.
Mr Gormley was speaking to the SPA board on the day it was announced SPA chief executive John Foley is to take early retirement.
SPA chairman Andrew Flanagan said earlier this year that he plans to resign.
Scotland's police watchdog has criticised "dysfunctional" relationships at the top of the SPA.
A review by HM Inspectorate of Constabulary in Scotland described a "fundamental weakness" at the board.