Scots woman raped by three men on Magaluf beach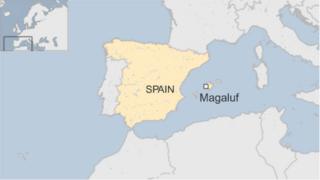 Police are hunting three men after a woman was reportedly raped by them on a beach on the Spanish island of Majorca.
The 19-year-old Scottish woman was attacked in Punta Ballena, Magaluf, on Friday night.
Local media reported she went to the beach with one of the men, whom she knew, and that he was then joined by two friends.
The Civil Guard said they were investigating. They have not revealed the nationality of the three suspects.