Danny MacAskill to feature in Celtic Connections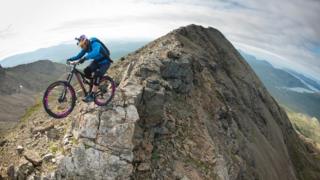 Stunt cyclist Danny MacAskill is to feature in a special show to mark the 25th anniversary of Celtic Connections in January, it has been announced.
MacAskill will appear in a section of a show at the SSE Hydro in Glasgow that will feature the music of the late Martyn Bennett.
The acclaimed musician's second album, Bothy Culture, will be performed with full orchestration for the first time.
Celtic Connections will take place from 14 January to 4 February 2018.
It will feature 300 events and more than 2,000 artists from across the world, but the full line-up has not yet been announced.
Organisers have revealed that a specially-commissioned orchestration of Bennett's Bothy Culture by violinist and composer Greg Lawson will be performed on Saturday 27 January.
Danny MacAskill's contribution is inspired by his short film The Ridge, in which he returns to his native home of the Isle of Skye for an action packed ride along the notorious Cuillin Ridgeline.
The film, which has had more than 53 million views on YouTube, is set to the soundtrack of Martyn Bennett's Blackbird.
The GRIT Orchestra was formed two years ago to perform an orchestration of Bennett's final album, GRIT, which played to sell-out crowds at Celtic Connections, WOMAD and the Edinburgh International Festival.
Bennett was an iconoclastic Scottish musician, who died from Hodgkin's lymphoma in 2005, at the age of 33.
GRIT was recorded during his struggle with cancer but remains a landmark record which provided a radical fresh interpretation of Scottish traditional music.
The album spliced unaccompanied singing by traditional singers such as Calum Ruadh and Sheila Stewart with electronic beats and grooves more familiar to a hardcore dance music audience.
The aim was to put his tradition on a global stage, revealing old songs in a new light.
Tickets for the GRIT Orchestra's performance of Bothy Culture will go on sale on Thursday 31 August at 10:00.
The full programme for Celtic Connections 2018 will be announced on Tuesday 24 October.