Council gets more rogue landlord powers in Govanhill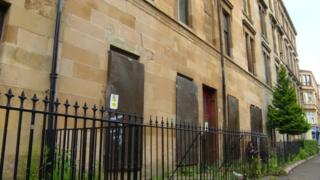 Glasgow City Council has been given more powers to tackle rogue landlords in an area plagued by squalid living conditions.
A further 14 tenement blocks are now designated an Enhanced Enforcement Areas (EEA) in Govanhill.
Officials now have news rights of entry to properties if there are complaints from residents about how they are managed by private landlords.
They can also request electrical and gas safety certificates.
Previously, four tenement blocks had been designated an EEA in 2015, with many inspected properties failing to meet required standards.
Scotland's housing minister Kevin Stewart said extending the powers would give the council an important lever to improve conditions.
He said: "The success of Govanhill's first EEA is clear. During initial inspections, only 21 properties within the area met the Repairing Standard requirements. Now, through the council's ongoing engagement with landlords, 175 properties met the standard on their second inspection.
"The additional powers will ensure the council can intervene directly on housing problems faced by residents in the area.
"I am committed to improving conditions for tenants in the private rented sector and this further designation will help ensure that people are living in good-quality private rented homes and landlords take their responsibilities to the people they home seriously."
Mhairi Hunter, co-chairwoman of Glasgow City Council's Govanhill Taskforce, said it was "great news" for the people of Govanhill.
She said: "The first EEA has led to a wide range of improvements within the 'four blocks'. Action has been taken against failing landlords, properties have been brought up to standard, the number of property factors appointed has almost doubled and there has been a drop in anti-social behaviour.
"The extended EEA will give us the tools to tackle rogue landlords in a further 14 blocks and help us improve the rest of South West Govanhill.
"Govanhill is a diverse, vibrant community loved by many. The council is committed to the long-term regeneration of the area and extending the EEA."
The 14 tenement blocks are located in: Albert Road, Allison Street, Annette Street, Bankhall Street, Belleisle Street, Bowman Street, Calder Street, Cathcart Road, Daisy Street, Dixon Avenue, Garturk Street, Langside Road, Victoria Road and Westmoreland Street.