Scottish prisons 'should offer landlines in cells'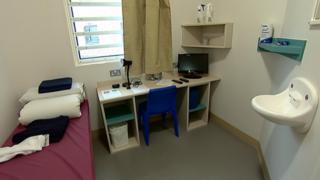 Some prisoners should be allowed phones in their cells to help them stay in touch with family, a think tank has suggested.
Reform Scotland has proposed piloting landline phones, arguing it could cut reoffending.
Some prisons in England and Wales already allow phones in cells.
The Scottish Prison Service said it had no plans at present to provide such facilities but was looking at ways to maintain family links.
Reform Scotland said that, aside from prison visits, contact between inmates and families was often limited to restricted-use telephone lines and emails that were printed out and delivered with the mail.
The think tank's report also called for a ban on prison sentences of six months or less in Scotland and an end to automatic early release for short sentences.
Reform Scotland research director Alison Payne said: "Prison exists for four key reasons - punishment, deterrence, public safety and rehabilitation.
"The fourth - rehabilitation - does not always receive the attention it deserves.
"However, rehabilitating prisoners and preventing reoffending is important not just for the prisoner, but also for his or her family and for society as a whole."
Ms Payne told the BBC's Good Morning Scotland programme that restricting access could have a "massive impact" on young family members on the outside.
She said: "Prisoners currently have access to landline phones - there are just restrictions on when and the frequency that they can use these phones. The phone numbers have to be approved by the prison service and they are restricted.
"However, evidence suggests that maintaining close family links can help prevent re-offending. Due to distance, circumstance, travel problems, a lot of people won't be able to see their loved ones as often as they would like - if at all.
"Fractured relationships"
"And that's not just from the prisoner's perspective, that's from the perspective of those family members that our left outside. This would mean that they would have more frequent access to be able to phone those individuals - particularly children or young relatives that they might have on the outside.
"If you are restricted in when they are be able to speak to their own children, that can have a massive impact on that child."
Nancy Loucks, chief executive of Families Outside, a charity which works to support the families of prisoners, said imprisonment often "fractures" family relationships and other support structures.
She said: "It separates people from the things most likely to prevent them from offending, such as housing, employment and social support, increasing the risk of family breakdown, relapse and homelessness."
While the Scottish Prison Service said it had no plans to introduce landlines in cells, a spokeswoman added: "The Scottish Prison Service recognises the importance of maintaining family links with a family member during their time in custody and continues to look at ways in which we can support and enhance this."