New Caledonian Sleeper trains to offer 'hotel' experience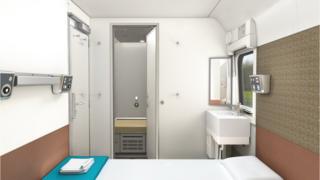 Caledonian Sleeper has revealed the first images of a new £150m fleet of trains to be introduced in 2018.
New features on the trains include key card entry systems, more accessible rooms and on-board wifi.
There are 75 carriages currently being built, which the company said would offer a "hotel-style experience".
Details of the new trains are being unveiled on a dedicated website ahead of the launch of the fleet in spring next year.
The sleeper service between London and Scotland is run by Serco, who took over the franchise in 2015.
The new trains will offer more accommodation options - including suites with double beds and en-suite bathrooms.
Peter Strachan, the company's chairman, said: "The sleeper is already a fantastic way to travel, and the new trains will improve the service dramatically.
"Providing comfort and convenience, the sleeper allows for plenty of time for a full day of work or play, before transporting you to and from the destinations we serve - without the hassle of flying.
"The sleeper offers great value for money compared to other travel and accommodation options and combined with the new train accommodation, will give guests the journey of a night-time."