Can celebrating Scotland's last wild oyster fishery boost tourism in Stranraer?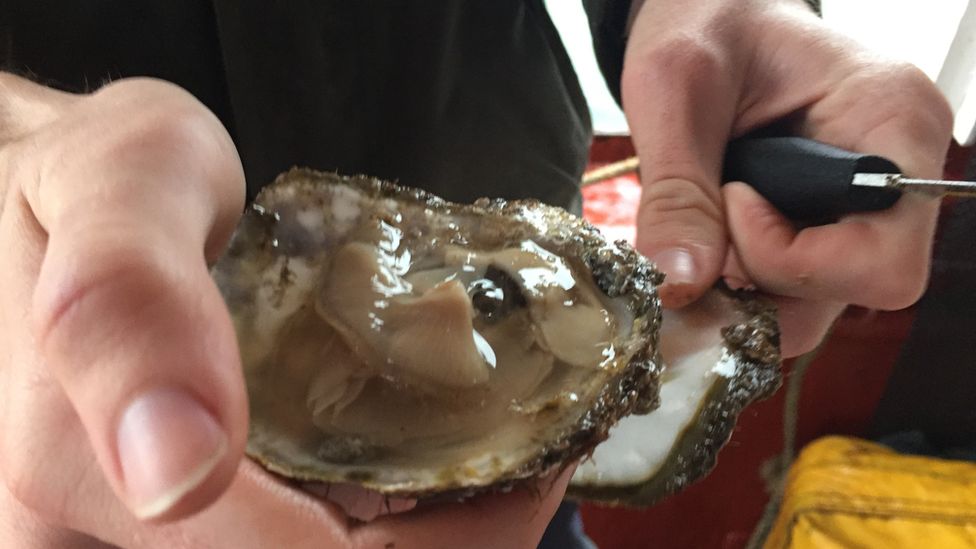 Stranraer, home to Scotland's only native oyster fishery, is holding a three-day festival of the wild shellfish in an effort to boost the local economy.
The resulting decline in footfall has prompted local business owners to organise a celebration of their harbour's most unique selling point: Loch Ryan oysters - a prized delicacy only commercially available from Scotland's last wild, native oyster fishery.
Once widespread around Britain's coasts, the native oyster is now a rarity and outnumbered by the farmed pacific oyster.
The wild shellfish has been farmed by local fishermen Rab Lamont and John Mills, of the Loch Ryan Oyster Fishery, for more than a decade.
The pair, who have known each other for more than 30 years, work seven days a week between September and April plying the icy beds of Loch Ryan from the Vital Spark - a 1970s Clyde-built prawn trawler.
'Untapped tourist attraction'
Rab said: "No two days are ever the same.
"You get rain, wind and sun, so it's always a challenge - but we look forward to a challenge every day."
The oysters are primarily sold in London, where Rob says customers will pay up to £7 each in top restaurants.
But connoisseurs have exacting standards, meaning that 95% of today's catch is not landed.
"London wants sizes of around 80g to 110g, so we only take the perfectly shaped oysters for them, which will look good together on a plate," Rab says.
The rest are returned to the loch in marked areas, using GPS technology, allowing the Vital Spark to return for them after they've grown to the required size - which can take up to 10 years.
Native oyster (Ostrea edulis), also known as European flat oyster, is a marine bivalve mollusc native to the east Atlantic, from Morocco to Norway.
Once widespread around Britain's coasts, the native oyster is now a rarity and outnumbered by the farmed pacific oyster.
Factors blamed for their decline include overfishing, pollution, a lack of stock management and disease.
The rights to fish at Loch Ryan have been held by the Wallace family since 1701, when King William III enshrined the privilege to them in a Royal Charter.
Since 1996, Tristan and David Hugh-Jones of the Loch Ryan Oyster Fishery have farmed the sea loch on behalf of the Wallace family.
Malcolm Wallace said: "We chose Tristan and David because they were the first people we'd heard of who had successfully managed to breed native oysters.
"However, when they came here they decided there was no need to have artificial breeding because [Loch Ryan oysters] were doing so well.
Mr Wallace said the family has enforced restrictions on the size and quantity of oysters that can be farmed, ensuring the fishery remains sustainable for the future.
"If you've got something like that, you try to preserve it and that's the uppermost in one's mind," Mr Wallace added.
While the prized molluscs are highly sought-after south of the border, there has traditionally been less demand for them in Scotland - partly because they are usually sent to London to undergo a filtration process before they can be sold.
But a purification tank is being set up at the festival, making it easier and cheaper for locals to enjoy them for the first time in years.
The Loch Ryan Oyster Fishery said it "hoped" to have enough of the shellfish to meet demand over the weekend, despite 2,000 of them being stolen from the shoreline in August.
Festival-goers are expected to shuck around three quarters of a tonne of the oysters over the course of the weekend.
Stranraer businessman and trust chairman Romano Petrucci believes that the oysters could be an untapped tourist attraction.
"When we thought about the Oyster Festival I went out into the street and asked 50 people if they were aware of the fact that just a mile from where we were standing we had the last wild and native oyster bed in all of Scotland - 49 people had never heard of the oyster bed.
"It told me that we now have an incredible opportunity to celebrate something."
Mr Petrucci said the local economy had taken the Irish Sea ferry sailings for granted until they left in 2011, causing a major economic impact.
He said Stranraer went through "anger and confusion" when the ferries left but then decided it was time to reinvent itself.
"We want to make people have a vision of Stranraer as not just a place that has events on but something that is very special and unique."
Mr Petrucci added: "This isn't just to sell something for the sake of making our town and community busier.
"We are going to sell something that's real; something that's there; something that's ours and something that it's time to celebrate."
Stranraer Oyster Festival is on from the 15 - 17 September.