Denise Mina wins Scottish crime book of the year award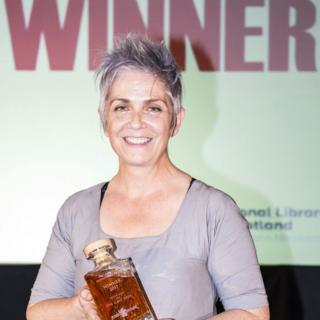 Writer Denise Mina has won The McIlvanney Prize for Scottish crime book of the year.
Her book, The Long Drop, was chosen ahead of works by four other shortlisted authors - Val McDermid, Craig Russell, Craig Robertson and Jay Stringer.
The result was announced at Stirling Castle on Friday as part of the Bloody Scotland crime-writing festival.
The award, in memory of writer William McIlvanney, includes a prize of £1,000.
Ms Mina is the first female writer to win the award.
Her book is based on a true story about infamous 1950s serial killer Peter Manuel.
Previous winners include Chris Brookmyre with Black Widow in 2016, Craig Russell with The Ghosts of Altona in 2015 and Peter May with Entry Island in 2014.
'Dark and grimy'
The panel of judges for this year's award included comedian Susan Calman, writer Craig Sisterson and Lee Randall, programmer of the Granite Noir crime-writing festival and chairwoman of the judges.
Ms Randall said: "The Long Drop by Denise Mina transports us back to dark, grimy Glasgow, telling the social history of a particular strata of society via the grubby, smoky pubs favoured by crooks and chancers.
"She takes us into the courtroom as well, where Manuel acted as his own lawyer, and where hordes of women flocked daily, to watch the drama play out.
"Full of astute psychological observations, this novel is not only about what happened in the 1950s, but about storytelling itself.
"It shows how legends grow wings, and how memories shape-shift and mark us.
"For my money this is one of the books of 2017 - in any genre."