'Here is your wife back, she's broken'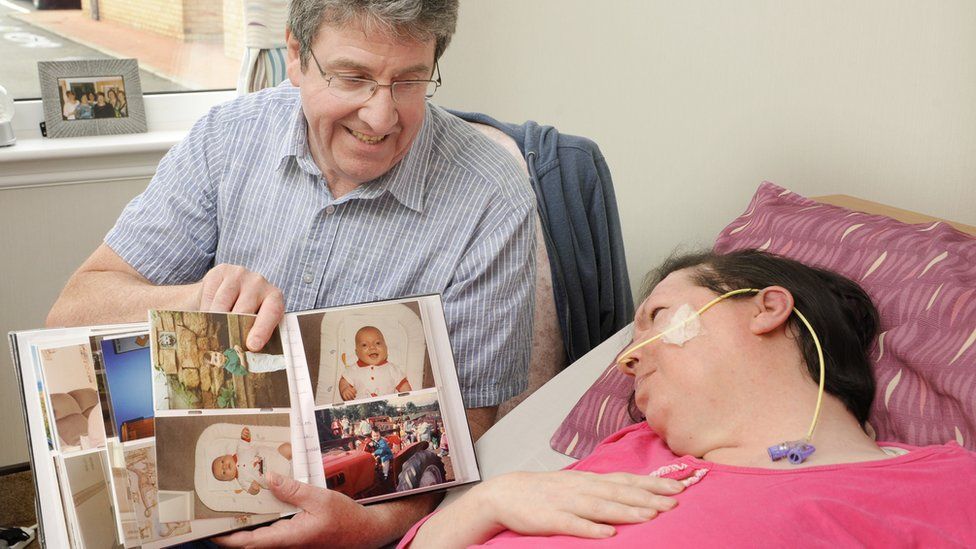 Thomas McGreevy's wife Dee has a neurological condition after an operation to remove a tumour. She is only still only 58 but has been in an older people's nursing home for more than two years.
It found 86% of people with neurological conditions in residential care were in homes for the elderly - and one in five of those were under 65.
Thomas, from Bothwell in South Lanarkshire, says his wife's life is now a "mere existence".
He says Dee is in a room 24 hours a day, staring at four walls.
Thomas says she has received no specialist care since just after her operation more than two years ago.
"I would say the NHS saved her life by removing two tumours and then they felt their work was done," he says.
"It is almost a case of 'here is your wife back, she's broken, do what you will'.
"There was no guidance, there was no follow-up, absolutely no co-ordination."
Thomas says the nursing home keeps her clean and provides her meals but does not offer any other treatment such as speech therapy, occupational therapy or physiotherapy.
He says: "For the past two-and-a-half years I have been fighting tooth and nail to have her assessed to see if there could be some sort of professional input.
"To see if they had something to give us that would give her a quality of life, that is all I was looking for. At every stage I was hitting a brick wall."
"Nobody within the NHS wanted to take any responsibility.
"There were times when I thought it was beginning to move but when it reached a certain point they turned around and said 'it is nothing to do with us, we don't want anything to do with you'."
Thomas says that after her operation Dee spent 12 weeks in the PDRU (the Physical Disability Rehabilitation Unit at Glasgow's Southern General) where she got intensive physiotherapy.
"It was explained to me that they were just going to see how she would react to this therapy," he said.
"In the last couple of days they had her on her feet with a Zimmer, which was absolutely unbelievable.
"She was well supported and I just thought this was incredible."
He adds: "But then I was told they had done everything they could and intensive physiotherapy would be stopping.
"I asked if it would now be a reduced programme of therapies and they said 'yes'."
"From the moment she stepped out of the PDRU she has received nothing."
Dee was transferred to Hairmyres hospital in East Kilbride, where she spent a year on a general ward.
Thomas says the care was "second to none" but there was no physio or speech therapy.
When she was eventually moved to her first nursing home, he says: "I feel that literally they put her in a room and shut the door. They were so relieved to have her off their hands. That's how I see it."
Dee has since been moved to another nursing home.
Thomas says she is confined to her bed, semi-paralysed, yet she is kept on a secure wing with the most acute care home patients.
He says the other patients are in their 70s and 80s and have severe dementia conditions.
Thomas says his wife worked in a hospice before her illness and he feels that her background in health care would have served her better had their roles been reversed.
He says: "I'm not a medical person. She would have had me accommodated in a greater way than I have for her.
"At every turn I'm having to try to navigate these corridors and it is labyrinthine.
"Unless you are in the know it is very tough."
The good news for Thomas is that after years of campaigning his new MSP and his wife's new GP have managed to get Dee assessed for therapies.