Effect of sprinklers on fire safety in Scotland's tower blocks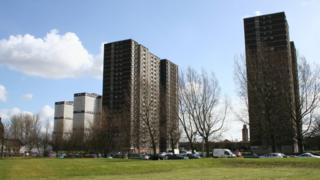 New figures obtained by BBC Scotland reveal the effect sprinkler systems have on fire safety in Scottish tower blocks.
Fifteen people have died and more than 480 have been hurt in high-rise fires in Scotland since 2009.
But the BBC has learned that just one of those casualties was injured in a flat fitted with a sprinkler system.
The findings have led to renewed calls for the fire suppression systems to be retrofitted in older tower blocks.
The Scottish government said Scotland has "stringent building and fire safety regulations" but added that a "thorough and critical review" of those was being carried out in the wake of the Grenfell Tower fire in London.
The data on sprinklers was obtained from the Scottish Fire and Rescue Service (SFRS) in response to a freedom of information request.
It revealed that the number of fires in blocks of more than 10 storeys has fallen from a high of 499 in 2009/10 to 238 last year.
However, 98% of all the high-rise blazes reported to firefighters over the last eight years happened in flats without sprinklers.
Emergency crews have been called to just 56 fires in flats with sprinklers - and just one resulted in a casualty.
The issue has come into sharp focus since the Grenfell Tower fire in June, when around 80 people died in the blaze.
Some experts have claimed a sprinkler system could have prevented the tragedy.
Year
Total number of deaths in high rise fires
Number of deaths in high rises with sprinklers
2009/10
4
0
2010/11
5
0
2011/12
0
0
2012/13
2
0
2013/14
4
0
2014/15
0
0
2015/16
0
0
2016/17
0
0
In Scotland, every high-rise built since 2005 must be fitted with sprinklers but there is no obligation on councils or social landlords to retrofit the systems.
Graham Simpson, the Scottish Conservatives' housing spokesman, said BBC Scotland's findings showed that policy must change.
"These are startling figures which emphatically show the need for sprinkler systems to be fitted in all tower blocks," he said.
"There are a number of reasons why fires start and spread and there is more than one way to inhibit the spread of fires, but sprinklers have proved their effectiveness time and time again.
"The fact that all the deaths in tower block fires were in buildings with no sprinklers and the overwhelming majority of casualties were too is evidence of the need to fit them.
"It will be a huge job and an expensive one but we are talking about something that saves lives.
"The Scottish government and councils must work together to start a retrofitting programme straight away."
Fund safety improvements
Scottish Labour's interim leader Alex Rowley MSP called on Communities Secretary Angela Constance to meet local authorities urgently to discuss the issue.
He added: "Labour believes the government has a responsibility to work with councils to put in place a programme that will ensure the highest safety standards in high-rise flats, which could include sprinkler systems.
"Given the level of cuts to local authorities in recent years, the SNP government must accept that it also has a responsibility not just to agree any improvements to safety in high-rise flats, but also to look at how to fund such programmes.
"To simply leave any programmes to improve safety to cash-strapped councils would not be acceptable."
A Scottish government spokesman said: "The Ministerial Working Group overseeing this process will consider all relevant measures to ensure the safety of residents in high-rise domestic buildings, including a review of evidence on fire suppression systems including sprinklers."
Brian Sweeney, the former head of Strathclyde Fire and Rescue Service, urged caution in interpreting the figures.
He estimated that 95% of Scottish tower blocks were built before the new sprinkler regulations came into force in 2005, and many are home to vulnerable people.
Those that have been built since then are generally high-end luxury apartments, which are at lower risk of being the scene of a fire.
"The case for sprinklers is still very, very strong," he added. "I think sprinklers are the way forward and would have prevented what happened at Grenfell."
---
How do you retrofit sprinklers?
The cost of retrofitting sprinklers would be about £1,500-£2,500, depending on its size
Residents would not need to be rehoused when sprinklers are installed
It would take one day and would be "less disruptive" than painting a flat
Each sprinkler responds mechanically to heat and they work independently of each other - only one operates in 60% of fires
Source: European Fire Sprinkler Network
---
The issue was raised by MSPs during a session hearing evidence on building regulations and fire safety earlier.
Bill Dodds, the government's head of building standards, told the local government and communities committee that not all buildings are structurally sound enough to take the retrospective fitting of sprinklers.
He added that the installation of a sprinkler system would require a building warrant.
The committee was also told that the government working group was looking at new regulations such as installing sprinklers in schools, student accommodation and hotels.
"We are absolutely convinced that sprinklers have a role to play," he said.
Assistant Chief Officer David McGown said: "The installation of automatic fire suppression systems can provide a cost-effective and potentially lifesaving intervention in the early stages of a fire.
"The Scottish Fire and Rescue Service recognises the difference these systems can make whilst acknowledging that they may not be appropriate in all cases when considered on a risk basis.
He added: "The public can rest assured that we also continue to work closely with Local Authorities and Housing Associations to ensure the safety of occupants in high-rise buildings."