Danny MacAskill's mum: 'I never worry about my son's stunts'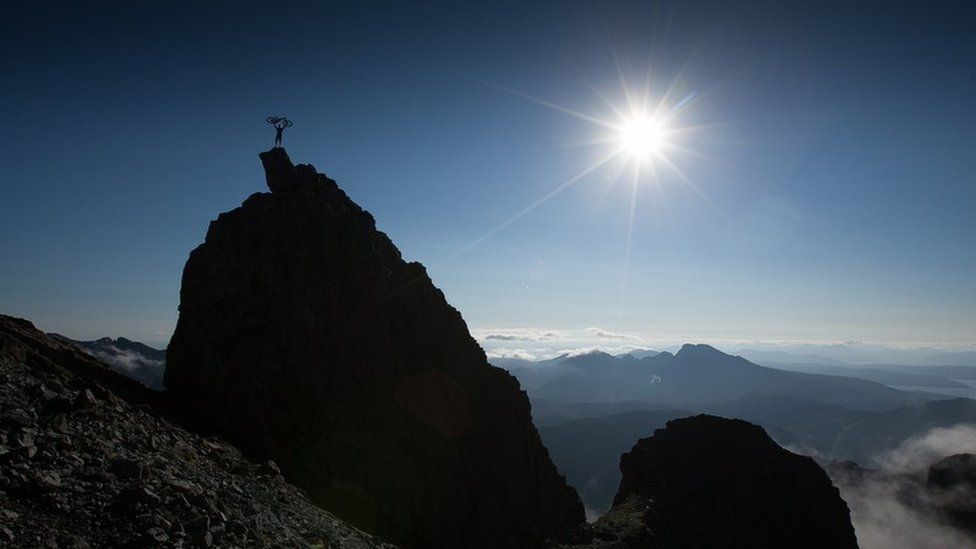 The mother of Scottish stunt cyclist Danny MacAskill says she has never worried about the dangerous tricks her son performs.
Anne MacAskill told the Kaye Adams programme that children should not be "wrapped in cotton wool" because they would not learn how to take risks.
Danny MacAskill, 31, has been performing stunts on his bike since he was a young boy and has risen to fame over the past decade due to his Youtube videos.
Deborah Malone-Newman told BBC Radio Five Live: "You come to accept early on that your child has a passion. I think to stem that, to halt it and to try to contain that is fundamentally wrong.
"I think we should encourage our children to pursue their passions."
She said parents needed to teach children about risk and allow them to cope with it rather than "bubble-wrapping" them.
Mrs MacAskill told the BBC: "I'm in a very fortunate position that I just don't worry at all, it is his father who worries all the time.
"I don't know why I don't worry.
"I don't know if it is partly because I was brought up on a farm and you went out and did things and didn't think about it."
The 68-year-old added that children need to learn how far they can go and should not be held back from exploring that.
"If they learn from a small age then they know what their boundaries are," she says.
Her son Danny has hurt himself performing stunts but his mother says he has never had a severe injury.
"He was off for about a year and a half with a bad back with all the pressure from the height that he jumps but he's never had a serious break," she says
"He's broken a collar bone a couple of times but that's about all."
She says she always encouraged him to be aware of risks and think of ways of dealing with them.
"He always wore a helmet from a very young age," Mrs MacAskill says.
"His room is full of broken helmets which have taken a bashing and that would have been his head if he had not been wearing them. So it is calculated risk a lot of it."
Danny's father Peter has previously said that Danny gets his courage and adventurous nature from his mother.
Last year, Mrs MacAskill took part in the 10,000-mile (16,093 km) Mongol Rally across Europe and Russia in an old van.
Mr MacAskill runs the Giant Angus MacAskill Museum in Dunvegan on Skye.
Fans of Danny drop by from all over the world to see where he comes from.
Mrs MacAskill says her husband worries about her son but enjoys his success.
She says: "I think If Daniel said he was stopping it tomorrow my husband would be disappointed because he gets a kick out of it."
Ian Stewart, father of Edinburgh stunt cyclist Danny Stewart, agrees that you cannot stop children pursuing their passions.
He said he introduced his son to mountain biking as a fun and healthy outdoor activity.
Danny, who is now 23, went on to become a dirt jumping champion and is now part of The Clan stunt display team.
His father says: "He just developed a real passion for getting his bike into the air and doing tricks and acrobatic stunts."
Mr Stewart says they have always been aware of risk because Danny got injured a lot. He has a titanium plate in his collar bone because he has broken it so often.
"He reckons he has broken 40 bones. Not 40 different bones, some bones he's broken often. We've spent a lot of time in accident and emergency units so the risk was apparent.
"He has to take risks but he tries to measure them and to gauge them."
Like Danny MacAskill, Danny Stewart has always worn a helmet when performing tricks.
His father says: "You cannot eliminate risk so you have got to teach kids how to manage it.
"Let's not forget that with risk comes all the other things like thrill, excitement, joy and all the fantastic pleasures we get out of doing these things."
Mr Stewart adds: "I have such tremendous respect and admiration for what he does because I have ridden a bike for a long time and I would not begin to know where to start to do some of the things he does.
"He's got a real talent. He loves it. It is part of who he is and that's very special."
"If kids have got a talent, if they want to do something, you have got to let them do it."