Parsons Green bombing: Police urge vigilance as terror threat cut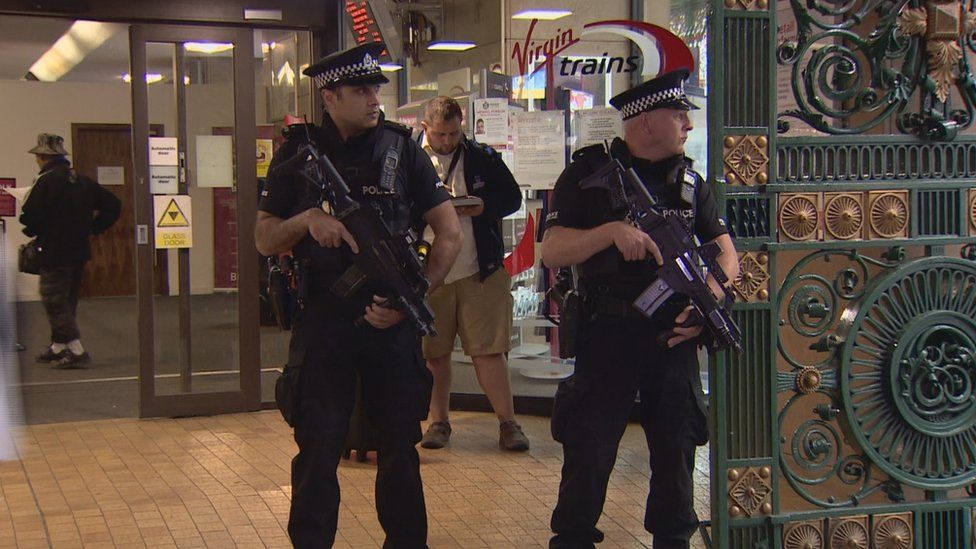 One of Scotland's most senior police officers has urged vigilance after the UK terror threat level was reduced from "critical" to "severe".
Officers carrying guns were seen at key locations including train stations and football matches.
Police Scotland Assistant Chief Constable Bernard Higgins said its response would "gradually scale back".
In a statement posted on the force's social media channels, Mr Higgins said the force would maintain a "strong relationship" with communities in an effort to beat terrorism.
He said: "Although the UK government has announced that the UK threat level is to be reduced to severe, the public should be remain vigilant.
"Since the level was raised on Friday, we have had additional armed police officers on patrol across the country and the public should continue to expect to see these officers as we gradually scale back our policing response in keeping with the UK-wide operation.
"Ultimately, communities beat terrorism and we must maintain the strong relationship we have between the public and the police.
"Terrorists want to create discord, distrust and fear. The police stand together with all the communities in the UK and we will take action against any criminal behaviour, which seeks to undermine society, especially where crimes are motivated by hate."
Home Secretary Amber Rudd announced that the terror threat level would be reduced after two men were arrested in connection with the bombing in south-west London.
The "severe" threat level means a terrorist attack is highly likely. When the threat level was raised to "critical" on Friday, it meant that a terror attack may be imminent.
So-called Islamic State has said it was behind the bombing.
Twenty-nine people have been treated in hospitals, mostly for burns, following the attack at 08:20 on the eastbound District Line train from Wimbledon.
Related Internet Links
The BBC is not responsible for the content of external sites.