Council nurseries 'rated better for care', says report
By Reevel Alderson
BBC Scotland's social affairs correspondent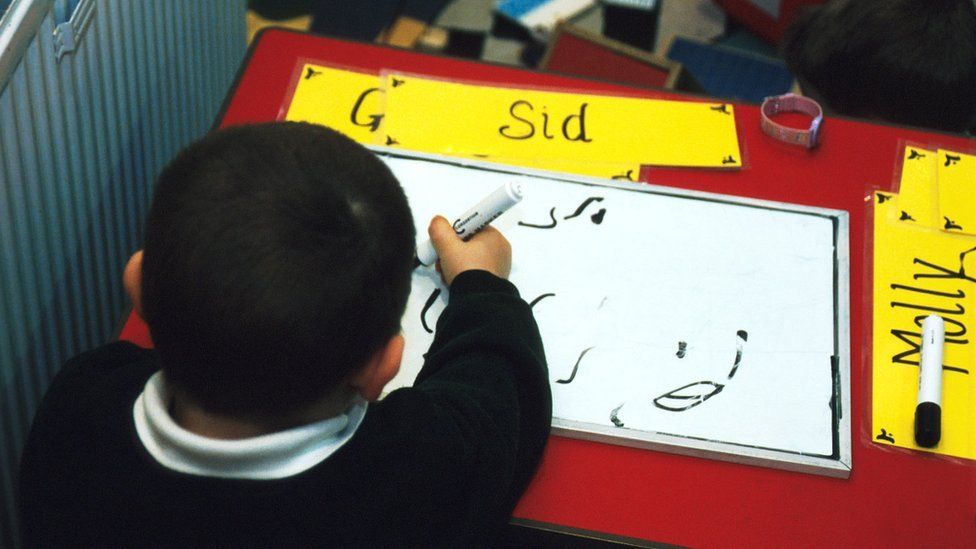 Local authority nurseries in Scotland offer higher quality care than those in the private sector, a report has said.
But the Care Inspectorate (CI) said private nurseries are improving, and that more provide whole-day care.
The report came as a campaign group claimed many parents were sacrificing their careers because of a lack of appropriate child care.
The Scottish government said it recognised the importantance of increasing flexibility in child care.
The CI statistics showed that the number of children receiving early learning and childcare has topped a quarter of a million for the first time.
More than 252,200 children were registered with early learning and childcare services at the end of 2016, an increase of 1.1% in 12 months.
It said more nurseries were offering longer hours of child care.
The proportion of local authority nurseries offering the choice of whole day sessions had risen to 34.2%, an increase of 8.2% in a year.
However, almost all private nurseries (96.3%) offered whole-day care.
The report found that at 94.3%, council nurseries had the highest proportion of services rated good or better.
Private nurseries lagged behind, with 82.3% of their services in the top categories.
The CI report was published as a pressure group claimed nine out of 10 parents who want to change their working situation said they were being hampered by a lack of appropriate, affordable childcare.
'Confused and frustrated'
Fair Funding for our Kids (FFK) said a survey of more than 400 parents revealed half were unhappy with their childcare arrangements because the hours available were too short or did not suit their working arrangements.
It said most councils offered free childcare hours in slots of three hours and 10 minutes during term time only, with no option for parents to buy extra hours for the rest of the day. It said this caused problems for many working families.
Katherine Sangster, a mother of four who is a spokesperson for FFK, said: "This report shows once again that parents are confused, frustrated and being held back in their careers by a childcare system that doesn't recognise the reality of life for working parents.
"We need full-day nursery places to be available to all parents now."
Karen Reid, chief executive of CI, said early learning and childcare provides a crucial service for families and helps make Scotland the best place to grow up.
"Early learning and childcare can play a key role in reducing the poverty-related attainment gap. The Care Inspectorate's job is to ensure that early learning and childcare is high quality, meets children's needs and respects their rights," she said.
"As funded hours for early learning and childcare increases, I hope these statistics will be useful for councils and providers in planning how early learning and childcare will expand and be available to even more children."
The Scottish government said it recognised the importance of increasing flexibility to support the needs of families.
"While evidence shows that the majority of local authorities are consulting with families and increasing flexible options, we know that some places offered to parents are not where and when they need them and increasing choice must be continued and accelerated.
"Our commitment to increase free early learning and childcare to 1140 hours by 2020 will transform childcare provision in Scotland.
"But families are already starting to benefit from participation in our trials, which are testing innovative approaches and new models, and through a phased approach to expansion, that will focus initially on those children and families who will benefit most."
Related Internet Links
The BBC is not responsible for the content of external sites.