The prison riot that ended with the SAS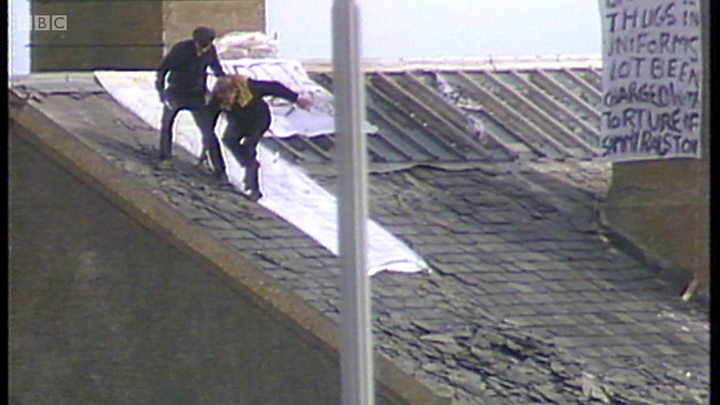 Photographs taken during one of Scotland's most notorious prison riots are going on public display for the first time.
Thirty years ago this week, 50 inmates took control of D-hall at Peterhead Prison and took two warders hostage.
One was released but prison officer Jackie Stuart was held for five days, paraded on the roof and threatened with being set on fire.
The siege ended when an elite SAS force stormed the building.
Mr Stuart has returned to the prison, which closed in 2013, to recount his experiences to visitors to the jail museum which houses the new exhibition of photographs from the 1987 prison riot.
He told BBC Scotland the riot began after an inmate had stabbed another officer, Bill Florence.
Mr Stuart went to his colleague's aid and got the knife off the prisoner but then the "whole hall joined in".
The two prison guards were taken hostage by a group of prisoners as the others set about wrecking the prison hall.
Florence was released after a day because of his injuries but Mr Stuart, who was 57 at the time, was held for almost five days with no food or water.
He was repeatedly beaten and taken on to the roof of the cell block, 90ft above the ground, by his captors.
He says: "I was paraded along the roof with a chair round my neck and petrol in my pockets.
"They were going to set fire to me if they didn't get something but it never came to that."
Peterhead Prison, which was widely known as 'The Hate Factory', already had a reputation for disturbances and there had been a riot the year before.
The prison was overcrowded and conditions were tough, with no internal sanitation in the cells.
Prisoners, many of whom were from the central belt, were also angered by being placed in north-east Scotland, a long distance from friends and family.
Mr Stuart says prison riots were not uncommon at that time, with Barlinnie and Perth prison also experiencing them.
He says: "Everybody just went on the rampage which they had done before and smashed everything up, that was normal."
Eventually he was left with three prisoners who took him up to the top of the prison where they could get access to the roof.
He says: "They took us up on to the top attic and that's where they gave us a beating. They made me lie on the floor and beat me with table legs."
Mr Stuart says the prisoners were unpredictable and he did not know what they were capable of.
He says: "When they were going to set fire to me, I would have had to try something then - something physical.
"It was too high to jump."
In the early hours of the fifth day, Mr Stuart was rescued by a surprise operation by the elite SAS military group, who launched a lightning attack with stun grenades and gas which took just three minutes.
The prison officer says the first he knew of it was when one of the inmates landed on top of him.
He says: "He must have got the gas and stun grenades first.
"I only saw one SAS man. I just said to him that I was the officer.
"I was in prison clothing and he accepted that, but he'd probably had pictures of me and the prisoners beforehand."
Mr Stuart says he got through the ordeal by being "thrawn and determined".
He says he had six weeks off work after the siege but had been determined to put the incident behind him after that.
"It's in the past - I never thought it would come into the news again," he says.
"I'm just an ordinary guy. I never thought something like this would happen. Once it was done it was done."
Alex Geddes, who runs the prison museum, says: "If anybody was to be held on the roof I think Jackie was the right person.
"He's got a great mental attitude. He still has now.
"He's 87 years old and still comes in to speak to people and I think that says a lot about the man himself."