Who are the Scottish Dawn neo-Nazi group?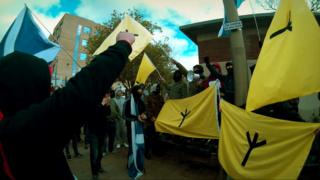 The Scottish Dawn neo-Nazi group has been banned by Home Secretary Amber Rudd under the UK's anti-terror laws.
From today, being a member or active supporter of the organisation is a criminal offence - with a sentence of up to 10 years in prison for anyone convicted of being involved.
---
Who are Scottish Dawn?
On its website, the group describes itself as a "patriotic society for the defence of our race and nation active across Scotland".
Despite claiming to have been inspired by SNP founder Arthur Donaldson, it despises the party and First Minister Nicola Sturgeon, and is vehemently opposed to multiculturalism and the "global liberal elite".
The group's first public appearances came at an anti-refugee protest in Alloa in March, when a small number of hooded and masked supporters stood alongside other extremist groups including the National Front and Scottish Defence League.
They appeared at a similar protest in Wishaw the following month.
Members stand out through their distinctive yellow flags, which feature the black "life rune" symbol that was used by the Nazis and has since been adopted by other neo-Nazi groups.
In keeping with other racist hate groups across the UK and Europe, and the alt-right in the US, Scottish Dawn is keen to foster a more modern image than that of the stereotypical bovver-booted skinhead in an attempt to disguise its Nazi ideology and lure in new members.
It describes itself as "identitarian" - a term that originated among extreme right-wing groups in France and has since been adopted across northern Europe by neo-Nazis looking to appeal to a younger, more contemporary generation.
The group claims to have held regular litter-picking days and to have volunteered at an animal sanctuary.
And members are also encouraged to participate in "regular hikes in Scotland's beautiful countryside", with the group claiming to "offer the opportunity for both health and socialising".
Leading Scottish Dawn figures were secretly filmed by undercover journalists during a seven-month investigation on behalf of the Ferret website and the Daily Record newspaper - with one member being exposed as a former UKIP activist.
---
Why has it been banned?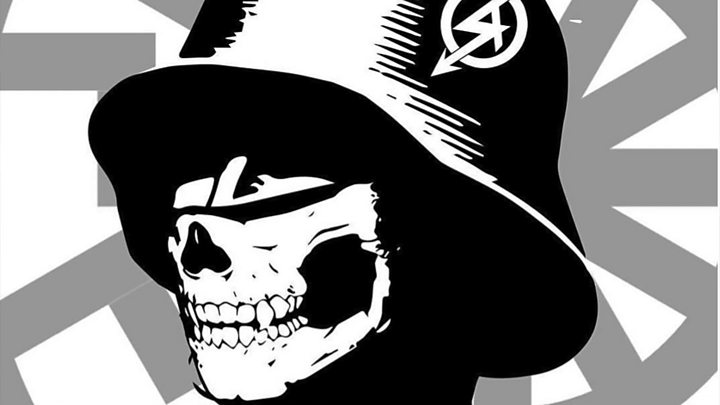 Ms Rudd's announcement that Scottish Dawn and another neo-Nazi group called NS131 would be banned came the day after 11 men were arrested under anti-terror laws as part of an investigation into the National Action organisation.
The raids were in addition to three other men - including two British soldiers - being charged under anti-terror laws earlier this month over allegations that they were members of National Action.
National Action became the first far-right hate group to be banned under the UK's anti-terror laws last year, after it praised Thomas Mair for murdering Labour MP Jo Cox.
At the time, Ms Rudd described National Action as a "racist, anti-Semitic and homophobic organisation".
Scottish Dawn and NS131 both emerged shortly after National Action was outlawed, and the authorities believe the groups were created as a way for National Action supporters to get around the ban.
The links between Scottish Dawn and National Action were exposed by the undercover journalists, who recorded one member saying that "there are some members in the group that were in National Action".
Ms Rudd said she would not allow the "vile racist" group to "masquerade under different names".
Despite the ban, Scottish Dawn's website was still accessible on Friday morning.
---
What other groups are banned under the legislation?
Under the Terrorism Act 2000, the home secretary has the power to ban an organisation if she believes it is "concerned in terrorism".
This is defined as either committing or preparing to commit acts of terrorism, as well as promoting, encouraging or glorifying terrorism.
The home secretary also has the power to ban any aliases of an outlawed group in order to prevent it simply carrying on under a different name once it has been banned - as in the case of Scottish Dawn.
There are currently more than 70 groups proscribed under the act, including so-called Islamic State, as well as Al Shabaab, Al Qa'ida, Boko Haram and the Haqqani Network.
A further 14 organisations in Northern Ireland were proscribed under previous legislation.
Under the act, anyone who is an active member or supporter of a banned organisation in the UK faces up to 10 years in prison, with the authorities also given powers to seize assets and remove online material.