More beavers to be released into wild in Argyll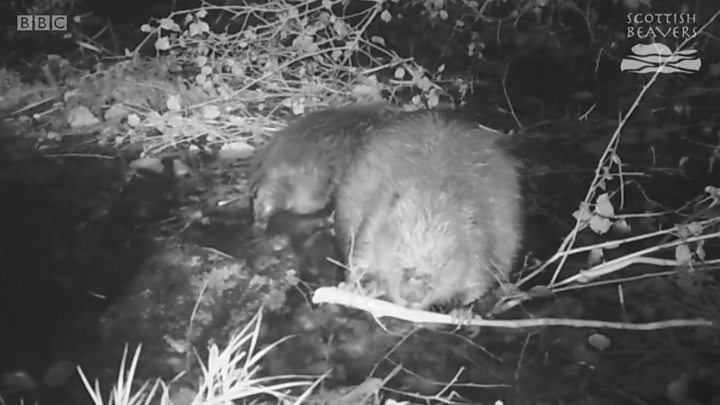 More beavers are to be released into the wild in Knapdale Forest in Argyll to give the current small population a better chance of survival.
Beavers were introduced to the area in 2009 through the Scottish Beaver Trial.
There are currently at least nine beavers within four groups in Knapdale, but with only one group showing signs of successful breeding.
Up to 28 beavers can be released under the licence, which has been granted by Scottish Natural Heritage.
The "reinforcement" to the current population will be carried out by Scottish Beavers - a new partnership between the Scottish Wildlife Trust and Royal Zoological Society of Scotland (RZSS) created to continue the work of the Scottish Beaver Trial.
The aim is to have a minimum of five breeding pairs within the overall population.
It is also hoped that in the next couple of years at least one successful breeding pair will be from a mix of Norwegian and Bavarian beavers.
Susan Davies, of the Scottish Wildlife Trust, said: "Reinforcing the population at Knapdale is an exciting step forward for the future of beavers in Scotland.
"We're thankful to Forest Enterprise Scotland for hosting the Scottish Beaver Trial, and for their continued assistance with monitoring the population in mid-Argyll."
Sarah Robinson, of RZSS, said without urgent action the current population was at risk of decline.
She said: "Now that it has been decided that they can stay, we have a duty to reinforce the population and ensure that they have a chance to make their homes in the wider area.
"By introducing beavers from a range of sources, we aim to increase their genetic diversity and give them the best possible chance of thriving in the long-term."
Native Scottish beavers were hunted to extinction in the 16th century.
About eight years ago, Eurasian beavers taken from Norway were released in Knapdale. An illegally-released population was also discovered in Tayside.
In 2016, the Scottish Government announced both groups would be given a protected status and allowed to stay.
The new beavers will be sourced from a variety of locations and screened for diseases before their release into the wild.