Pupils launch new RBS polymer bank note into space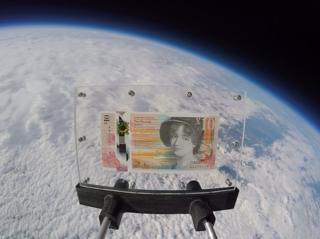 Primary school pupils in Perthshire have helped Royal Bank of Scotland launch its first plastic £10 bank note - by sending it into the edge of space.
Children from St Stephen's and Newhill Primary schools in Blairgowrie used a weather balloon to send the new note 38,500 metres into the earth's atmosphere from their shared campus.
They were helped by scientists from near space explorers Sent Into Space.
The note features celebrated Scottish astronomer Mary Somerville.
Ms Somerville, who died in 1872, was chosen as the face of the new £10 after a public vote on social media.
Behind her portrait is an illustration of her hometown of Burntisland, Fife. A moon diagram from her book, Mechanism of the Heavens, also appears when the note is viewed under UV light.
The reverse features a pair of otters.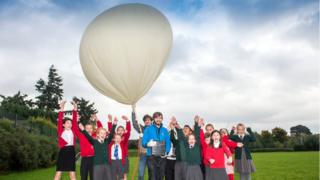 Malcolm Buchanan, chairman of the bank's Scotland Board, said: "At the Royal Bank of Scotland, we feel that a bank note's value is more than just the figure printed across its front - it is our symbol which lives in people's pockets and touches everyday lives.
"This is our most advanced note yet and we wanted the public to help influence its design.
"It is fitting that the public vote led to the choice of Mary Somerville, a person who helped advance our understanding of the world which surrounds us and the stars above us."
According to the bank, the new £10 will be cleaner, more secure and more durable than traditional cotton notes.
Its development involved Scottish arts organisations and designers, including Graven Images, Nile, Stucco, Timorous Beasties, O'Street and the Glasgow School of Art.